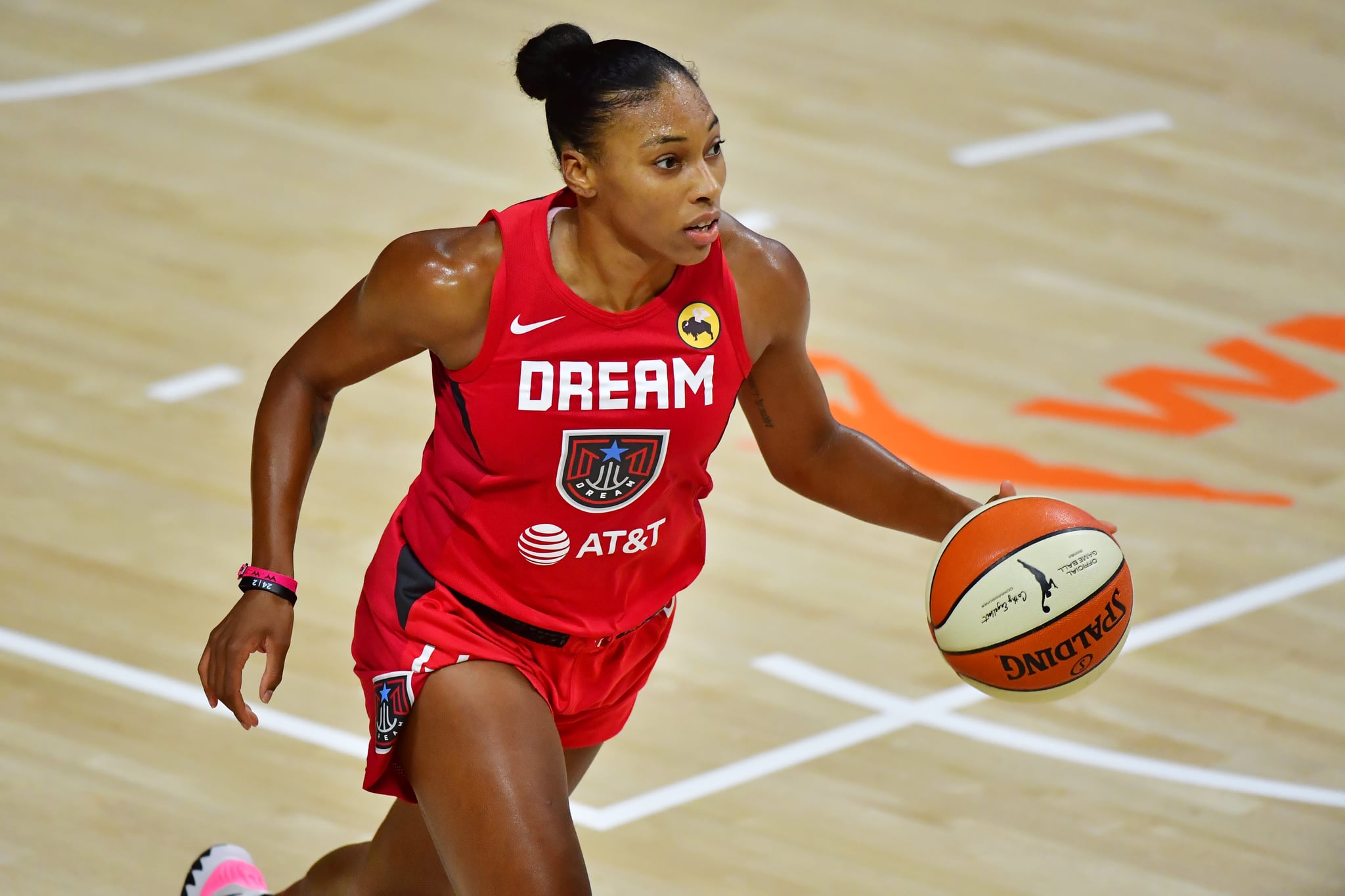 Image Source: Getty / Julio Aguilar
For the WNBA's Atlanta Dream, every home game this season will be called by a broadcast team of Black women, a first in the franchise's history. Angel Gray and Autumn Johnson will act as analysts, and LaChina Robinson and Tabitha Turner are color commentators.
This is Robinson's 12th season with the Atlanta Dream and Gray's third. The latter was a Dream sideline reporter and color commentator in 2015 and 2016. Turner covered the Atlanta Dream back in 2017 and 2018, and this is Johnson's first season with the franchise. Her background includes roles with the NBA 2K League and NCAA Digital.
"As the Atlanta Dream experiences new beginnings we are extremely excited to announce our new broadcast team for the 2021 season," two-time WNBA champion Renee Montgomery, the Dream's vice president and new co-owner, said in a statement. "This broadcast team of all women is another positive step in our goal of providing empowerment to the diverse Atlanta community. It's exciting knowing that moments such as these will create momentum, and we plan to keep that same level of energy moving forward."
It's all about representation. As Montgomery further wrote on Twitter, "Representation matters so to have this Black Girl Magic Broadcast group for a professional sports team is everything!"
"Representation matters so to have this Black Girl Magic Broadcast group for a professional sports team is everything!"
Earlier this year, Montgomery became the first former player to sign on as both an owner and executive of a WNBA team when she purchased a stake in the Atlanta Dream. She joined a group of owners led by Northland real estate firm chairman Larry Gottesdiener and Northland COO Suzanne Abair. They bought the Atlanta Dream from former Georgia Republican senator Kelly Loeffler. WNBA players spoke out against Loeffler after she publicly opposed their support of the Black Lives Matter movement, also taking a stand to back her opponent, Rev. Raphael Warnock, a Democrat, in one of the Senate runoffs for Georgia. Loeffler ultimately lost that election to Warnock on Jan. 6.
"When Renee called me about coming back to the Dream it was a no-brainer," Robinson said of her Atlanta Dream color commentator role. "There is a palpable energy around the WNBA and the city of Atlanta that is undeniable. I'm honored to be a part of what the Dream is building under new leadership in this historic 25th season of the league."
Separately, an all-women team took charge of a TSN broadcast during a game between the Toronto Raptors and the Denver Nuggets in March, making NBA history.