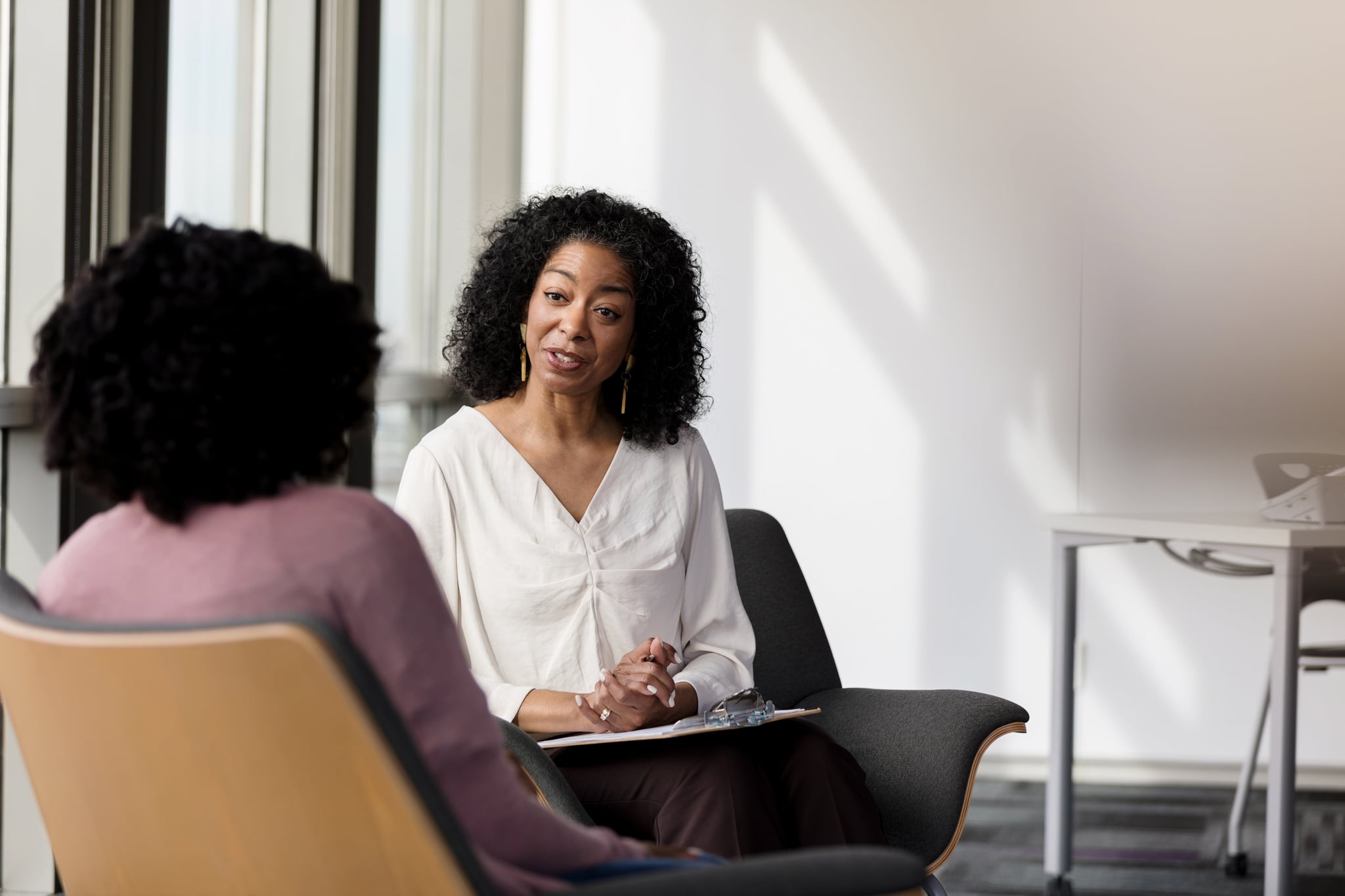 A good therapist listens and helps their clients through personal and sensitive issues and obstacles. And if you're looking for someone who's specifically LGBTQ+ supportive, therapist Kiki Attonito, MA, CAP, RYT, who has a master's degree in clinical psychology, shared these tips. She wants to emphasize that LGBTQ+ issues are human issues, and a superb therapist will make a noticeable connection with the client so they feel unconditionally supported and understood. So here's how to find a therapist who supports your needs.
Does an LGBTQ+-Supportive Therapist Need to Be Part of the LGBTQ+ Community?
Therapists are not under any obligation to disclose any personal details about themselves to clients. In fact, many choose not to in order to keep the focus on the client and to avoid comparisons or transference issues arising, Attonito explained. "I personally use self-disclosure when I feel it will best serve my client," she told POPSUGAR. "For example, I advertise my practice as serving the LGBTQ+ community, but it is only if I have a client whom I feel would benefit from hearing anecdotally about my marriage with my wife or my own coming-out experience, for example, that I will reference my sexual orientation." She doesn't think it's essential for the therapist to be part of the LGBTQ+ community in order to be effective, but she finds that clients often feel more comfortable working with someone whom they know to be not only an ally but also a peer.
Is It Appropriate to Ask a Therapist What Their Experiences Are With the LGBTQ+ Community?
It's not only appropriate but also crucial, Attonito said, adding that their reaction to this question can be quite telling. She said to look for the therapist to be able to cite certain experiences and/or a certain percentage of their clientele, as opposed to broadly just saying, "I have experience."
How to Find an LGBTQ+-Supportive Therapist
When looking for a supportive therapist, no matter your race, religion, gender, or sexual orientation, Attonito said a referral from an LGBTQ+ friend can help narrow down your search and could be the ticket to finding a perfect potential match. So ask your friends, relatives, and coworkers to see if they have a recommendation for a specific therapist or office.
If you don't have a referral, you can always google "LGBTQ+-supportive therapist near me," and this will prompt a list of resources. But if you have health insurance, Attonito said to try seeing which providers are in your network to ensure it's covered. You can also check out these online resources:
Is Virtual Therapy as Effective as In-Person Sessions?
Depending on the bedside manner that the therapist is able to provide online, yes, virtual therapy can be just as effective. In fact, Attonito said some clients might actually feel more comfortable disclosing about sensitive subjects from the comfort of their own familiar spaces as opposed to the more clinical space of the therapist. On the other hand, the privacy of meeting in person in their office may feel more meaningful. It's OK to try out a few therapists and settings until you find a good fit.