Shopping from the comfort of your home is already simple enough—and now it's even one step easier by removing the headache of 'what to buy.' Explore these unique gift ideas for Father's Day, complete with pricing and direct links to shop.
 Rondeno Spice Collection, Original 3 Flavors
You KNOW Food. You'll recognize the sophistication of Ryan Rondeno's Rub Collection in his three original flavors: Nola Creole, Ancho-Chili BBQ, &, Citrus Herb. The makings of a masterpiece on ALL your dish creations! The ultimate rub collection for foodies – from the Ryan Rondeno Spice Collection. Gluten Free, Non-GMO, & No Preservatives.
https://shop.rondenoculinarydesigns.com/collections/spice-collection/products/rondeno-spice-collection
Price: $35
HUmineral
HUmineral – Give dad the gift of HEALTH the whole family can share. Humineral.com – Anti-viral plant mineral food nutrients line of products. Minerals and water, a necessity for healthy immune function and healthy body. Child to elderly – Healthy is a LIFESTYLE
https://www.humineral.com/shop 
Price: $20-59
Yeti, Daytrip Lunch Bag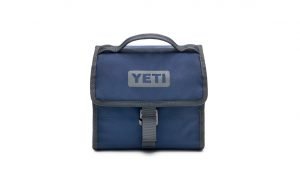 Pack a lunch you'll actually look forward to with the Daytrip® Lunch Bag. In true YETI fashion, we upgraded a classic form factor to give you a fresh-for-hours, fold-and-go, easy-to-clean lunch bag that takes soggy sandwiches and lukewarm drinks off the menu. Did we mention it's lined with hours-worth of insulation power? Surprise.
https://www.yeti.com/en_US/coolers/soft-coolers/lunch-bags/18060130019.html?country=US&currency=USD&utm_source=google&utm_medium=cpc&utm_content=__iv_p_1_g_116279506458_c_485818853004_w_pla-772461312120_n_u_d_c_v__l__t__r__x__y_7597392_f_online_o_18060130019_z_US_i_en_j_772461312120_s__e__h_1027106_ii__vi__&key_&gclid=CjwKCAjw_JuGBhBkEiwA1xmbRWkXG528mDBU-YzeCLn2wTaDzzfX-zEztsTJ6F5QuZy3raq9aBCTHhoC5mEQAvD_BwE&gclsrc=aw.ds
Price: $79.99
Manna Kadar Cosmetics, Mason Man Skincare

Manna Kadar, Founder of the Manna Kadar Cosmetics, announced as 2020's INC. 5000 list of the fastest-growing private companies in America introduces beauty of wealth for men, too, a complete luxury experience for men with the Mason Man Skincare collection. Mason Man was created to be streamlined and simple…an efficient daily skincare routine that uncomplicated men's grooming to keep the modern man looking fresh, clean and ready to take on the world.
Mason Man offers good for you ingredients like Argan Oil and Vitamin E, fresh clean scents, and sleek packaged products for all skin and hair types.
Who better to talk skin and beauty than self-made, self-funded minority mom-preneur herself, Manna Kadar (who named the brand after her son Mason because she wants her kids to grow up using the best ingredients with the the simplest routine. When it comes to anything and everything skincare Kadar's motto is "when you look good, you feel good!" The line is offered on Ulta.com and features the following hero products: SUPERHERO SHAVE CREAM,  SECRET STACHE AFTER SHAVE BALM,  SUPER POWER WASH FACIAL CLEANSER , LEGENDARY GROOMING KIT. Every man needs Mason Man! We'd love to ship you products to enjoy and happy to schedule an interview with Kadar!
https://www.ulta.com/brand/mason-man
Price: $18-$25
LifeVac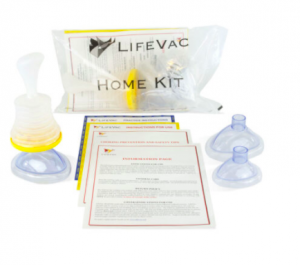 LifeVac: is a patented lifesaving device designed to offer the simplest, safest method of aspirating a choking child or adult. When Founder and CEO Arthur Lih heard the tragic story of a mother losing her child due to choking, he created an apparatus that increases the chance of survival from 50-70% (with the Heimlich maneuver) to 99%. Today, LifeVac is recognized by charitable partners like the Red Cross and has successfully saved hundreds of lives (and counting). In addition to the LifeVac Home Kit ($69.95) and Travel Kit ($69.95 or $49 with Home Kit purchase), the company spreads awareness about the hazards of – and proper responses to – choking. This danger is far more common than most people think, taking at least one child's life every five days. Each kit covers adults and children (from 22 pounds), never expires, and includes a free replacement when used in a choking emergency. Buy now, watch product demonstration videos, and attend a FREE online how-to training at LifeVac.net.
Price: $69.95
Photo Perfect Golf Ball Set of 12 – Callaway® Warbird Plus
Personalization Mall
"Par"-fect for milestone birthdays, bachelor parties, wedding favors, new baby, Father's or Mother's Day, retirement and more … take a special celebration and make it a memorable event with our Photo Perfect Personalized Golf Ball Set!
Sold as a set of 12; the personalization is the same on all 12
Personalize each ball with any photo
Printed on Callaway® Warbird Plus Golf Balls
Printed personalization measures approximately .75″ in diameter
Made in USA
From classic to humorous, we'll professionally imprint Any Photo you choose!
https://www.personalizationmall.com/Golf-c251.lp?fitemid=29105&did=322233&wordid=29105&utm_source=GooglePLA&utm_medium=cpc&&gcampaignID=11249224951&pmkid=aud-1246896535849:pla-297165212808-109197016206&gclid=CjwKCAjw_JuGBhBkEiwA1xmbRbrGKAUlMsm_7rygJOGtfSSA3CXcq54QUwbfswpKg4wJYBzSENP3PhoCDEcQAvD_BwE
Price: $32+
Mr. Fix-It Tool Crate
The Fix Is In — Anyone who's seen MacGyver knows that most problems can be solved with the right tools, a little ingenuity, and an abundance of confidence in one's hairstyle. The Mr. Fix-It Tool Crate can help with two of the three. The truth is, he's not James Bond. If he can't keep track of his car keys, he probably shouldn't be trusted with bomb-detonating cufflinks. But when it comes to nailing repairs around the house, fancy high-tech gadgetry may be just what he needs. Armed with a magnetic wrist band, an impossibly-useful multi tool, an interchangeable socket wrench/screwdriver, and a high-tech CSI flashlight, he'll be well equipped to topple even the most diabolical home repairs. And if all else fails, there's a roll of Gorilla Tape to handle sticky situations…or to make certain situations stickier. Gear him up with enough gadgets and gizmos to make home repairs a breeze with the Mr. Fix-It Tool Crate.
In the Box
Framework Mini Multi Tool
Universal Socket Wrench & Screwdriver
CSI Flashlight
Gorilla Crystal Clear Tape, 1.88" x 9 yds
Magnogrip Wristband
https://www.mancrates.com/store/categories/tools-gadgets
Price: $79.99
Omaha Steaks, Father's Day Top Gift Pack
Dad will love this assortment because it's packed with flavor, and you'll love it because it SHIPS FREE! This incredible package starts with our Butcher's Cut Top Sirloins that are aged at least 30 days to maximize the beef's natural tenderness and flavor. They are the perfect steakhouse-style steak, hand-carved to be taller and thicker than our traditional sirloins. Next, we added juicy Steakhouse Chicken Breasts, premium Boneless Pork Chops, super-juicy Gourmet Franks, hearty Steakhouse Fries, and decedent Caramel Apple Tartlets – it's the perfect mix of gourmet favorites. Plus, order this delicious package today and you'll get 8 FREE Omaha Steaks Burgers, and 4 FREE Filet Mignon Burgers – 12 FREE BURGERS TOTAL – an incredible $45 value!
https://www.omahasteaks.com/product/Father%27s-Day-Top-Gift-Pack-68898?ITMSUF=LGN&shoptype=PROMOTION&shopsrc=PRMFreeShipping
Price: $129.99
Dick's Sporting Goods, Stamina InMotion Elliptical
The Stamina ® InMotion ® Elliptical is an affordable way to work out at home on one of the most popular machines at the gym. Experience a great cardio workout with less impact to your joints. The foot pedals on this Stamina ® Elliptical work in a forward of reverse direction to target different muscle groups. The electronic fitness monitor will keep you on track as you work toward your goal.
Features:
Stamina ® InMotion ® Elliptical for cardiovascular and lower body workouts
Adjustable tension
Large, non-slip pedals work in both forward and reverse motion
Electronic fitness monitor displays number of strides per minute, total number of strides, exercise time, and calories burned
Manufacturer's warranty: 1 year frame / 90 days parts
Model: 55-1602
Stamina
https://www.dickssportinggoods.com/p/stamina-inmotion-elliptical-16smpunmtnllptclrllp/16smpunmtnllptclrllp?sku=13889979&camp=CSE:DSG_92700053322268122_pla_pla-506385812325&segment=&gclid=CjwKCAjw_JuGBhBkEiwA1xmbRaKOYVRCCs9f9Z_stugeE14qVU6sApKB_24w9rRJ5g8mr2ASZQDL2RoCbZUQAvD_BwE&gclsrc=aw.ds
Price: $119.99
Harry & David, Father's Day Gift Box with Wine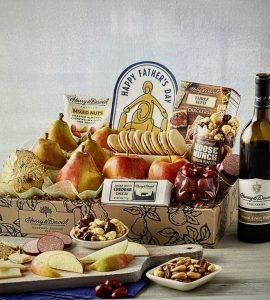 Celebrate Father's Day with a delicious array of gourmet goodies. This gift includes juicy pears, Moose Munch® Premium Popcorn, cheddar cheese, sausage, a bottle of Harry & David™ Royal Crest Red blend, and much more. An impressive assortment that's sure to make Dad's day extra special.
Contents:
Approx. 6 Royal Verano® Pears (2 lb 11 oz)
Approx. 2 seasonal apples (15 oz)
Moose Munch® Premium Popcorn – milk chocolate (6 oz)
Hickory-smoked summer sausage (5 oz)
Sharp white cheddar cheese (4 oz)
Three-seed crackers (4 oz)
Mixed nuts [cashews, almonds, walnuts, pecans] (4 oz)
Raspberry galettes (5.25 oz)
Milk chocolate-covered cherries (6 oz)
Pre-printed HAPPY FATHER'S DAY medallion
Harry & David™ 2018 Royal Crest Red blend (750 ml)
https://www.harryanddavid.com/h/gift-baskets-tower-boxes/gifts-with-win
e/34233
Price: $109.99
Michael Dineen, Suburban Gangsters
Dad will love this incredible novel.
Sometimes in life the direction you choose could come down to making a choice that at the time didn't seem like a big deal, only looking back you knew it wasn't smart. Had his conversation gone differently with his father in the spring of 1985, Patrick may never had become a criminal. While shooting hoops with his old man that breezy afternoon in April, they struck up a conversation. Patrick had been kicked out of Walt Whitman High School a few months earlier, but had been working full-time ever since. He was working hard at the time and would have kept at it. But his dad's rejection, and the way he did it, burned Patrick badly.
Patrick doesn't blame his dad for becoming a criminal, but that was the final straw. Somehow, he was determined to find a way to get that Mustang GT his dad wouldn't cosign for him. Selling cocaine would help him to achieve that. That's when he began hustling.
This was just the beginning of Patrick's drug selling days. He sold and trained and trained and sold. He worked with the cops, the FBI, and the DEA.
It may feel like a quick high. You may think just one more big sale and you can get out. But you'll learn that the life of drugs and crime doesn't pay.
About the Author
Michael P. Dineen grew up in Huntington, Long Island, New York. He studied and taught karate for over 20 years. He was a trainer to professional athletes.
After high school, Dineen pursued a life of crime for more than 20 years and survived to tell this story, his story.
https://www.amazon.com/Suburban-Gangsters-Michael-P-Dineen/dp/1480951897/ref=sr_1_1?dchild=1&keywords=Michael+dineen&qid=1623793521&sr=8-1
Price: $14.00