Drool-worthy menu from appetizer through dessert from Chef to the Stars & Founder of the FoodCulture App Ryan Rondeno
Simple conveniences go a long way, especially when pre-planning a holiday menu. Forget flipping through recipe books, family recipes, endlessly scrolling online, or dealing with kids' eye-rolling at the dinner table for the same dish that's never been a hit. Take a closer look at this complete menu from start to finish—tailored for your ease in menu-planning by Chef to the Stars and Founder of the FoodCulture App Ryan Rondeno—
Roasted Garlic and Sour Cream Mashed Potatoes
Roasted garlic is a great complement to mashed potatoes. The addition of sour cream and cream cheese adds extra creaminess to the dish
Cook Time: 45 minutes Serves: 6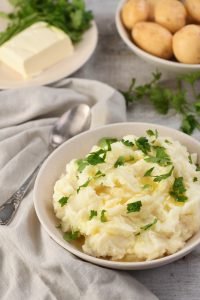 Ingredients
4 large Yukon Gold potatoes
1 c. heavy cream
2-3 oz. butter
4 oz. sour cream
2 oz. cream cheese
1 medium garlic bulb
1 bunch of scallions, sliced (optional)
1/2 c. parsley, chopped
salt and pepper to taste
Instruction
For the Roasted Garlic:
Preheat oven to 375°. Cut the top of the roasted garlic bulb. Drizzle with olive oil and season
with salt and pepper. Cover in aluminum foil and roast for 35-40 minutes. Once done, Allow to
cool slightly, squeeze the garlic from the bulb.
For the Potatoes:
Peel and dice the potatoes evenly. Add to a large pot and cover with water. Season with salt. Meanwhile, add potatoes to a large pot. Cook for 25-30 minutes at medium heat. Once the potatoes are soft, drain in a colander. In a large bowl, mash or rice potatoes, add butter, cream, cream cheese, sour cream and roasted garlic. Mash until fully incorporated. Season with salt and pepper. Taste for seasoning adjustments. Garnish with sliced scallions. Serve immediately.
Buttermilk Cornbread
Easy and quick bread that will complement your Thanksgiving dinner. Serve with honey butter or herb butter.
Cook Time: 30 minutes. Serve: 10
Ingredients
1 c. all purpose flour
1 c. finely ground cornmeal
1 1/2 c. buttermilk
1 tsp. baking soda
1 tsp. baking powder
1 tsp. kosher salt
1/2 c. granulated sugar
1/2 c. butter, melted
1/2 c. heavy cream
2 eggs
Instruction
Preheat the oven to 400 degrees. In a bowl, add sugar, salt, flour, baking powder, baking soda, and cornmeal. Add eggs, buttermilk, and heavy cream. Whisk until smooth. Fold in 1/4 cup of melted butter. In a 9×13 pan, spray with baking spray. Pour cornbread batter into the pan. Bake for 20 minutes. Once done, brush with 1/4 cup of melted butter. Enjoy!
 Roasted Turkey Gravy
This gravy recipe is a Cook Time: 45 minutes Serve: 8
Ingredients
2 lbs. turkey bones
2 medium onions, medium diced
4 ribs of celery, medium diced
2 carrots, medium diced
6 cloves of garlic, smashed
6 strips of bacon
2 bay leaves
4 sprigs of thyme
2 sprigs of sage
4 c. chicken broth
1 c. red wine
3.5 oz. demi-glace base
2 tbs. all purpose flour
salt and pepper to taste
Instruction
Heat 3 tablespoons olive oil in a large stock pot over medium-high heat. Add the turkey bones and saute for 3-4 minutes or until caramelized. Saute the bacon for 3-4 minutes. Add onion, celery, carrots, and garlic. Cook for another 3-4 minutes. Add thyme, sage, and bay leaves. Season with salt and pepper. Cook for another 1-2 minutes. Add flour and stir until fully incorporated. Deglaze with red wine. Reduce by half. Add Chicken broth demi-glace base. Cook for 20-25 minutes. Strain the sauce. Taste for seasoning adjustments. Serve with roasted turkey! Enjoy!
Spiced Cranberry Sauce
Quick and easy side dish to add to your holiday buffet dinner
Cook Time: 20 minutes
Serves: 6
Ingredients
12 oz. fresh cranberries
2 cinnamon sticks
2 star anise
2 bay leaves
zest and juice of 1 orange
zest and juice of 1 lemon
1 c. granulated sugar
pinch of salt
Instruction
In a 4 qt. saucepan over low heat, combine all ingredients. Cook for 8 minutes or until cranberries burst and sugar dissolves. Remove pan from heat and let cool completely. Remove bay leaves, star anise, and cinnamon sticks from pan. Add cranberry mixture to a bowl and refrigerate. Serve cold or at room temperature.
Maple Roasted Turkey
Fresh herbs like sage and rosemary help balance the robust flavors of the turkey. The maple syrup adds a sweet touch that'll brighten Time to cook 04:00:00 No of People to Serve 12

Ingredients
1 12-14 lbs. turkey
4 strips bacon, large diced
1 large onion, quartered
3 ribs celery, large diced
2 carrots, large diced
20 cloves of garlic, smashed
1 orange, halved
1 lemon, halved
1/2 c. maple syrup
1 c. butter, softened
1/4 bunch sage
1/4 bunch rosemary
1/4 bunch thyme
1/2 c. Ancho-Chile BBQ Rub
salt and pepper to taste
Instruction
Day before Thanksgiving or holiday party: After using turkey brine recipe, remove turkey from the brine. Rinse well and dry. Rub with olive oil and season with ancho-chile bbq rub. Refrigerate overnight. Day of Thanksgiving or holiday party: Preheat the oven to 350 degrees. Arrange the lower rack to the center. In a small bowl, whisk, maple syrup and butter. Season with salt and pepper. In the cavity of the turkey, stuff with bacon, onion, celery, carrot, thyme, sage, rosemary, lemon, garlic, and orange. Once the turkey is stuffed, truss the bird with kitchen twine by crossing the legs and tying them. Rub the turkey with the maple butter. Make sure to rub under the skin as well. Save 1 cup of maple butter for basting. Place turkey onto a roasting pan with a rack. Roast the turkey for 3 hours and baste with the maple butter every 30 minutes. Roast until the thigh reads an internal temperature of 170 degrees. The thigh juices will run clear. Once done, remove the turkey to a pan and allow it to rest for 20-30 minutes. Carve and serve with turkey gravy. Enjoy!
About Chef Ryan Rondeno
Award-Winning Chef to the Stars Ryan Rondeno is a true master of his trade and has
launched this user-friendly guide and reference tool App—FoodCulture.
"Our goal is to challenge and create great cooks in your kitchens with easy, quick, and
fresh meals for any meal of the day! Whether you're a beginner or advanced cook, the
recipes are streamlined and offer great ideas to help advance your cooking library," explains Chef Rondeno.
FoodCulture offers simple recipes that will bring unique and tasty experiences to the kitchen
table. More than mere recipes, this App embodies a way of living, learning and appreciating one another by celebrating wide-ranging historic cuisine, traditions, recipes, and indulging in a variety of courses with simple instruction and stress-free step-by-step guidance, from easy-reference written recipes to a helpful video demonstration! Search by Categories, prepare your Shopping List, save your Favorites, or visit the virtual Store to browse products, tools, apparel, and more!
"FoodCulture was created to embody a personal and unique approach of food and flavor in the kitchen. We wanted to create cost-effective and flavorful scratch recipes that didn't break the bank. The App was also designed to have a one-on-one feel, as if I'm cooking with you every step of the way," says Chef Rondeno.
Find a sweet and savory collection of recipes, such as: brunch, salads, healthy dinners, easy snacks, comfort food, cocktails, plus many more added every month!
Download the FoodCulture App Today!
Save & Access Recipes Anywhere * Premium Video Recipes * Integrated Shopping List * Shop
Our Store * Download the Free App Today
Google: https://play.google.com/store/apps/details?id=com.weapp.recipeapp
Apple: https://apps.apple.com/us/app/food-culture/id1538389448
Visit https://www.rondenoculinarydesigns.com for a Weekly Delivery Menu & to Purchase Spices & Rubs