Amanda Orso, The 'party stylist whose events have drawn A list guests from P. Diddy, Caitlyn Jenner, D'Andra Simmons, to Captain Lee, creates unique table settings for her clients using everything from candles to kale! This year she's created 4 looks for you to entertain at home on New Year's Eve.
To create a fun "Instagram-able" table this New Year's Eve, pick a theme and run with it! These four unique table ideas are party-ready, sure to please any group of guests (no matter how small or intimate), and will work with a variety of moods & aesthetics. Most importantly, all contain elements that are easily accessible before the end of the year.
CHAMPAGNE WISHES & KISSES
Nothing says New Year's Eve like a champagne toast followed by a midnight kiss. Think of your favorite bubbly and decorate the table in coordinating shades of champagne, including rose and yellow gold metallics. Keep the look light and effervescent, with a bubble-like centerpiece (made of balloons) and incorporate fun on-theme details like champagne-shaped candles. Display champagne bubble bottles (Party City) across the table, so that friends can blow bubbles 
at midnight
 (instead of making a confetti mess)! Be sure to serve a few champagne-pairing classics, such as strawberries. Finally, gift each guest a "kiss kit" with champagne-flavored lip balms and mints. Present them in an acrylic flute or coupe and place at each table setting to add to the décor.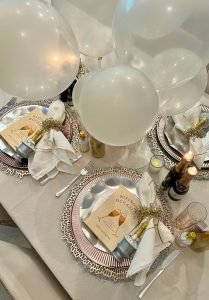 NEXT LEVEL PJ PARTY
Loungewear, but make it fashion! Throw an über chic pajama party by combing both luxury and comfort. Think lavish sleepwear – in fabrics like velvet, silk, and lace – when selecting tablecloths, runners, and placemats. Jewel tones such as emerald, sapphire, and burgundy will feel both sumptuous but still snuggly. Serve elevated breakfast foods such as bagels with lox & caviar; and use metallic frosting and edible glitter to dress up plain cake donuts. Stick with champagne but set up a serve-yourself mimosa and Bellini bar, with fruit juices and purees. Buy inexpensive velvet chair covers (or even consider setting up a luxe picnic on the floor) and use velvet bow hair ties to serve as napkin rings. For a centerpiece think of soft pampas grasses, which are simple and easy to arrange. Dress in a beautiful velvet pajama set or a silk slip dress to stay on-theme but still feel polished. If you're feeling next-level, provide comfy slippers for guests to change into when they arrive, or as the night continues. For party favors, send friends home with a beautiful silk or velvet eye mask, along with any accoutrements for a good night's sleep, such as lavender spray, sleeping chocolate, ear plugs, etc.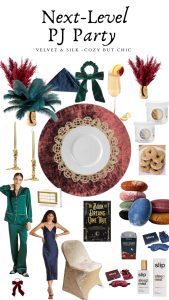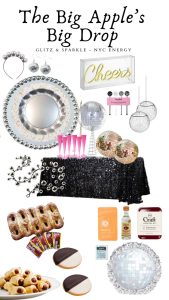 THE BIG APPLE'S BIG DROP
The big ball drop in Times Square is iconic! And this table theme will be too. A great hack: use small plastic disco balls to replicate the New York City original, both in your centerpieces and at each place setting. Think mirrored accents (i.e. chargers or coasters) to make the table feel layered and luxe. Channel the Times Square energy – and the 
24/7
 lights – with a few vibrant pops of color. In keeping with the New York vibe, serve NYC classics like soft pretzels, pigs in a blanket, and black & white cookies. Dress to impress in sparkles and sequins. And to put guests in the spirit, provide fun accessories such as hats and headbands, all with the silver ball theme. For a party favor, individual silver ball pinatas (Party City) can easily be filled with candy – or better yet – a hangover kit: mini bloody mary mix, small nibs vodka, and headache medicine for your guests to recover the next morning.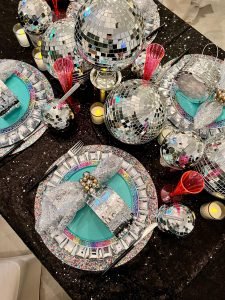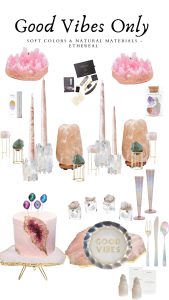 GOOD VIBES ONLY
Set your intentions for the new year with a tabletop of crystals and healing energy. Think ethereal colors like soft pinks, blues, and greens; and use readily available quartz, agate, and geode for placemats, napkin rings, and candleholders. Consider displaying intention cards to help create conversation around resolutions, rituals, and re-channeled energy. For additional ambiance, Himalyan salt lamps down the center of the table fit the vibe and are also known for their purification properties. For a party favor, consider gifting a specific crystal, with specific properties, for specific friends; OR put together a small sampling of crystals or a ritual kit for each guest to take home.