Looking for the PERFECT gift for your MOM? You have come to the RIGHT place! We have hand selected the BEST gifts to give this Mother's Day! Each gift is available online and can be shipped directly to her door! Please select from the gift types below to find the PERFECT gift to give (or receive)! 
SWIMINISTA 
'Recycled Bottle to Swimsuit' brand the perfect fit for every mama!
Make a statement with the Peaceful Onepiece; an eye-catching design featuring cut-outs on each side and chic gold-toned triangles. This modern style is reminiscent of the high-fashion 90's era; this style features a high-cut leg to elongate and highlight your form.
From Rock & Republic Co-Founder Andréa Bernholtz comes SWIMINISTA, an all-new collection of comfortable, ultra-chic swimwear made from luxury recycled fabrics and featuring adjustable, personalized fits in sizes A-DD. In an effort to give women the confidence to celebrate their own bodies while reducing the swim industry's impact on the planet, SWIMINISTA relies on high-quality fabric made from post-consumer plastics to create sexy, supportive pieces made for movement. Using the SWIMINISTA personalized fit guide, shoppers can select their ideal style and enter details about their jeans and bra sizes to easily find the right suit to complement their unique body. Through the company's discrete "Try At Home" option, shoppers can choose a selection of suits to try, decide which to keep and send back the rest. Discover the new era of eco-conscious, supportive swimwear in the SWIMINISTA online shop, along with care tips and updates on the company's efforts to give back, both globally and locally. Shop the SWIMINISTA collection exclusively at SWIMINISTA.com and follow on Instagram @SWIMINISTA for style ideas, new releases, and brand updates.
Website:  SWIMINISTA.com 
IG: @SWIMINISTA
Affiliate link HERE
Peaceful One-piece
Price:$164
Link to Buy: https://www.swiminista.com/collections/new-collection/products/peaceful-onepiece-new-collection
Shapellx
Mama's, shape it up! Empower women of all shapes and sizes
AirSlim® Firm Tummy Compression Bodysuit
• Creates a smooth and seamless look without lines
• Three layers of abdominal compression design strengthens tummy control
• Butt lifter design, no padded
• Daily-use-friendly design — Zipper crotch is convenient to go to the bathroom
• Two sides plastic bones prevent curling
• Anti-rolling silicone strips on edge. No rolling and no thigh imprints
• Keep the muscles tight; Sculpt & lift the backside for a shapely look
Web: Shapellx.com
IG: @ShapellxOfficial
Link to buy AirSlim® Firm Tummy Compression Bodysuit Shaper with Butt Lifter here imagery here
Price: $69.60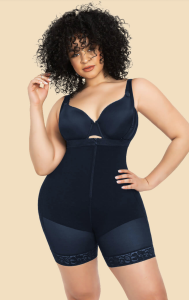 Manna Kadar Cosmetics
Developed by 20-year beauty industry expert Manna Kadar, Manna Kadar Cosmetics (MKC) is a family of six lifestyle brands – Manna Kadar Beauty, Goddess by Manna Kadar, Beauty and the Bump, Haute Dog luxury pet products, Mason Man Skincare, and Manna Kadar Luxe Bath and Body – each with a timeless aesthetic and iconic products. Manna Kadar Beauty offers a complete line of long-wear, double-duty items designed to minimize and simplify the makeup application process. The brand's award-winning Beauty Simplified System distinguishes a three-step approach – prime, polish, and perfect – that requires 7 minutes or less. As a company, MKC is committed to working together with uncompromising ethics, thoughtful candor, and 100% accountability to its customers and team members. Giving back 10% of its annual profits to local and global philanthropic organizations, learn more about the brand dedicated to creating bold impact at MannaKadarCostmetics.com. Discover the latest product releases and brand developments @MannaKadarBeauty on Instagram.
IG: @MannaKadarBeauty
Product: https://www.mannakadarcosmetics.com/products/ready-set-renew?_pos=2&_sid=0603fec4a&_ss=r
3 piece pink packaged set of Face mists, everyone loves a little pick-me up, feeling fresh faced is a must and loved by all
Price: $29.00
Website: MannaKadarCostmetics.com

Luxie Beauty
Sold at US retailers like Anthropologie, Macy's, Nordstrom, and Revolve. Follow LUXIE on Instagram @LuxieBeauty for the latest beauty tutorials and product releases, plus ultimate lifestyle and beauty inspo.
Since 2014, LUXIE has developed cruelty-free,100% vegan, high-performance makeup brushes. Known for their sleek design beauty tools with problem-solving functionality, and premium soft, synthetic bristles. Headquartered in California, and led by CEO Conor Riley with Chairman of the Board Claudia Poccia- known for her work with Shiseido, Bare Escentuals, Stila, and Laura Mercier. They partner with  industry leaders who share their core environmental and community values. Available in retail stores across America, Europe, and Asia.
Website: www.luxiebeauty.com
IG: @LuxieBeauty 
Start Price: $15
Website: www.luxiebeauty.com
LifeVac
LifeVac is a patented, FDA registered lifesaving device designed to offer the simplest, safest method of aspirating a choking child or adult. Founder and CEO Arthur Lih created the apparatus in 2011 to increase the chances of survival rates in a choking emergency, and has successfully saved 289  lives and counting. One LifeVac kit covers adults and children (from 22 pounds), never expires, and includes a free replacement when used in a choking emergency. The LifeVac is a non-powered, non-invasive, single-use only airway clearance device developed for resuscitating a victim with an airway obstruction. The Home kit comes fully equipped with an adult mask, a pediatric mask, and a practice mask. Purchase your Home Kit ($69.95) and Travel Kit ($69.95 or $49 with Home Kit purchase, Home and Travel Kit bundle ($118.95) at LifeVac.net, and watch the product demonstration videos or attend a FREE online how-to training so you are prepared in an emergency. Spread the word on Instagram @Life_Vac to help save lives.
Website:  LifeVac.net
IG: @Life_Vac
Save a Life
My Smooth Skin
My Smooth Skin offers a multitude of benefits to help your skin feel its best. It provides fast acting itch relief while cleansing and exfoliating the skin.
8oz Bottle, $19.99
4oz Bottle, $13.99
Skin Conditioner
Helps Bring Skin Relief and Restoration
Fast Itch Relief
Instant Exfoliant
Deep Cleanse
Effective Psoriasis and Acne Relief
Reduces Pain of Scrapes, Cuts, and Blisters
Alleviates Irritation and Chafing
Spray it on, rub until dry
Ingredients: Antisal 4 (Trisodium Phosphate), Soda Ash (Sodium Carbonate), Hydrogenated Water

BARELY BREAD
Barely Bread is known for creating delicious gluten-free and Paleo friendly foods using a grain-free blend of almond, seed, and coconut flours. Gluten-Free Mall sells a selection of Barely Bread bagels and sliced sandwich loaves. Order online and have your items delivered right to your home
Barely bread is a great alternative for the gluten intolerant in your household!
$15.99
NATURAL LENGTH CLIP-IN EXTENSION
Be able to transform your look and attitude instantly with a set of luxurious clip-in extensions. Damage and maintenance free. Tiffany Scott clip-in hair quality is the same exact hair quality as the professional line. Unlike other brands reducing quality for their clip-in line, we want to give our customers only the BEST OF THE BEST.
With proper care, these will last up to 2 years–Longer than any other clip-in line on the market! (comparable brands to last 3-6 months) If you aren't near a certified Tiffany Scott stylist, but still want to achieve the same look with no maintenance, upkeep, or salon visits, our clip-ins are for you!
All  colors and top-of-the-line hair quality is the same as the professional line!
LENGTH: 16″ or 20″
WEIGHT: 95g (16″) / 105g (20″) of total hair
5 TOTAL PIECES: 1 four-piece clip / 1 three-piece clip / 1 two-piece clip / 2 single-piece clips
https://www.tiffanyscottextensions.com/collections/clip-ins/products/natural-length-clip-in-extensions 
Viveve by Rise Medical
What better gift for a mother than female rejuvenation after child baring. Book a consultation for pricing. Varies upon consultation.
Childbirth is a beautiful, magical experience. But the toll it can take on vaginal tissue and urinary tract can be severe. Looseness, laxity, and urinary incontinence can disrupt daily routine, self-confidence, and decrease sexual satisfaction.
The Viveve vaginal and urinary restoration system was designed for active, sexually vibrant women who want to look as young as they feel without taking potentially dangerous drugs or enduring costly, complicated surgery.
At RISE Medical, we take women's physical and emotional health seriously – and we're dedicated to reviving a happy, healthy lifestyle.Discover how Viveve empowers women to reclaim their right to youthful, resilient vaginal tissue and strong pelvic muscles. Reserve a consultation with our skilled and discreet professional team by calling our office or using the link https://risemedical.com/female-rejuvenation/
SCULPTERY
Give the Gift of Feeling Good + Self Care
SCULPTERY is the original wood & ice body sculpting used by the stars that often seek Sarah's help after getting sidelined with health issues that prevent them from exercising to their full potential or just as a wellness session added to their pre-existing routine. That's because body sculpting is more than for plain vanity! It also offers amazing health benefits from removing toxins from the lymphatic system, to helping the body maintain proper blood circulation, body fluid balance, and immune functions. Celebrity or not, SCULPTERY is a must for anyone looking to maintain a lifted bum, a snatched hourglass waist, all while looking to boost their wellness routine; all in under 45min per session!  During the non-surgical procedure, Sarah will use wood tools and specially formulated ice molds to massage the lymph nodes targeting specific trouble areas. Most clients will require four to five sessions to make a drastic impact but even a tone up single session will have you seeing immediate results and ready to book your followup
Website: www.lovesculptery.com
IG: @Sculptery

Ryan Rondeo Spice Collection
The gift that keeps on giving! Celebrate the holiday and surprise a friend or family member with Chef Ryan;s Spice
Blends! Chef Ryan Rondeno seasoning blends can be used for grilling, smoking, sautéing, braising , and roasting. Its
flavors are Ancho-Chili BBQ, Nola Creole Rub, Citrus Herb Rub, Smoked Coffee Rub, Caribbean Jerk Rub, Louisiana
Gumbo Rub. They pair well with chicken, seafood, pork, beef, and vegetables. Create innovative dishes with this
collection! – Each  Rondeno Spice Collection  includes a FREE DIGITAL COPY of Spice It Up, Rub It Down: 30
flavorful recipes made easy
Retail Price: 6 for 60.00
https://shop.rondenoculinarydesigns.com/collections/spice-collection