Adding Dungeons & Dragons miniatures to your roleplaying game really brings the campaign to life! Dungeons & Dragons (or really, any RPG) is already the perfect medium for active storytelling. You are more than an audience; you are an active participant, shaping the story around you, crafting a WORLD around you. A great Dungeon Master can wield their words, building an entire atmosphere. Perhaps it's a haunted village or a broken shipwreck, waiting to be explored and looted for treasure. As you listen, you know dangers lurk and enemies are waiting for you but nothing prepares you for the audible SLAM as your DM presents their Beholder and instantly divides your adventure party.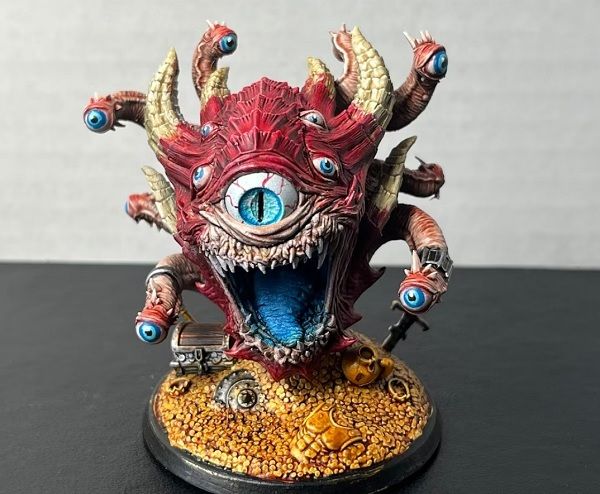 I know it's coming but every single time, it jumps scares me. And I love it. 
D&D Miniatures are a fun way to add visual support to your D&D experience. Are they necessary? Of course not! The beauty of D&D is that you can play with a pencil, paper, and a couple of dice (less, if you need to). D&D miniatures simply enhance what you are already bringing to the game. Miniatures give you an opportunity to personalise your character, the scenery, and even the gameplay. Representation always matters, and being seen is a big part of that. When you have your own D&D miniatures, you are taking on the power to give your own representation. You can paint whatever you want. With some new kits, you can customise and build whatever you want as well. This is your world and you are in charge. 
This sense of identity and representation has brought us some big changes in recent years. One of my faves was the introduction of combat wheelchairs, based on the rules made by D&D fan Sara Thompson. Sara's rules gave consideration to daily use and combat action for characters who used wheelchairs. Wizards of the Coast then included combat wheelchairs in its canon with the introduction of the first wheelchair-accessible dungeon in Candlekeep Mysteries (2021). Well, if you're going to have the campaign and rules, you may as well have the miniatures to go with it! Sara teamed up with Russ Charles and Strata Miniatures to create a range of D&D miniatures for different characters with combat wheelchairs. This is just one example from the range: 
If you are looking for more customisable options, there is a huge selection available via the Dungeons & Dragons Frameworks collection. You can see the whole Wave 1 Gallery on the WizKids website here. This is the perfect miniature for my Female Barbarian Dwarf, and it's customisable. Assembly is required and they are aimed at those with a little more experience with construction and painting. Still worth checking out at your local tabletop/board game store. 
The thing with D&D miniatures: if you buy one, then you gotta buy enough for the whole team. This Adventuring Party from DungeonHero includes five characters: Dwarf Paladin, Fighter, Old Wizard, Elven Archer, and Humanoid Rogue. 
Every adventuring party needs a challenge, usually in the form of an army or group of enemies. Bring out your undead with this bundle of Undead Army skeletons. The bundle includes a Necromancer, Lich Wizard, armoured skeletons, and a couple of bonus minis. 
You can also pick up some individual monsters; many of them are sooooo pretty, you will want to keep them on display. If you have been watching the trailer for the new Dungeons & Dragons movie, you too may have fallen in love with the infamous Owlbear. 
Arachnophobes look away now. If the Owlbear was too lovely for you, pick up this Giant Spider D&D Miniature for your collection. Perfect for putting the fear of spiders into any adventure party (worked for me). 
Okay, the coast is clear. For those who like the extra detail for painting, this beautiful Mushroom Nymph will challenge your campaign and your fine motor skills. But totally worth it. 
If you're looking to set the scene for a big campaign, there are plenty of kits that provide a location and extra details to bring your map to life. Fans of Ghosts of Saltmarsh will love this Pirate-themed set, complete with a shipwreck and a dastardly crew. The complete set will cost you $180 or you can choose your fave pieces to add as you want. 
Of course, every campaign will end up at a Tavern at some point. It's the best place to drown your sorrows over shared stories…or pick up some tips for your next adventure. This complete set will give you a full scene, ready for a brawl or a quiet chat by the fire. 
Don't loot the D&D miniatures just yet. Check for mimics. 
Truth be told, not everyone can paint minis. However, D&D RPG are meant to be about inclusivity. This is even more apparent within the D&D community itself. For those of us who simply cannot paint miniatures (no explanation necessary), you can buy painted D&D miniatures, customised with your colour preferences as required. Did you see the Beholder at the beginning of this article? If you liked that, check out more of the catalogue with GoodCauseMinis.
There are many communities willing to help out with tips, trades, and commissions. The Dungeons & Dragons Miniature Painting group on Facebook are a supportive group with plenty of admiration for others' work as well as offering their own help when needed. I also love the Dungeons & Dragons Miniatures Buy Sell Trade & Paint group (also on Facebook). They really do cater to all levels of skill and interest. 
---
Finally, if you are looking for more information on the general gameplay or how to choose that ultimate character, we have a few articles to point you in the right direction. For a refresher on How to Play Dungeons & Dragons, Annika has you covered here. If you still need guidance on choosing a character, maybe let the dice choose for you with the Best D&D Dice found here. Once you have your character chosen, Alice has plenty of tips on how to set up your character will skills, backstory, and plenty of charisma (if that's your thing). Be forewarned: Once you've dipped your toe into D&D, there's no turning back! But that's okay: We're all lovely here and will accept you with open arms.