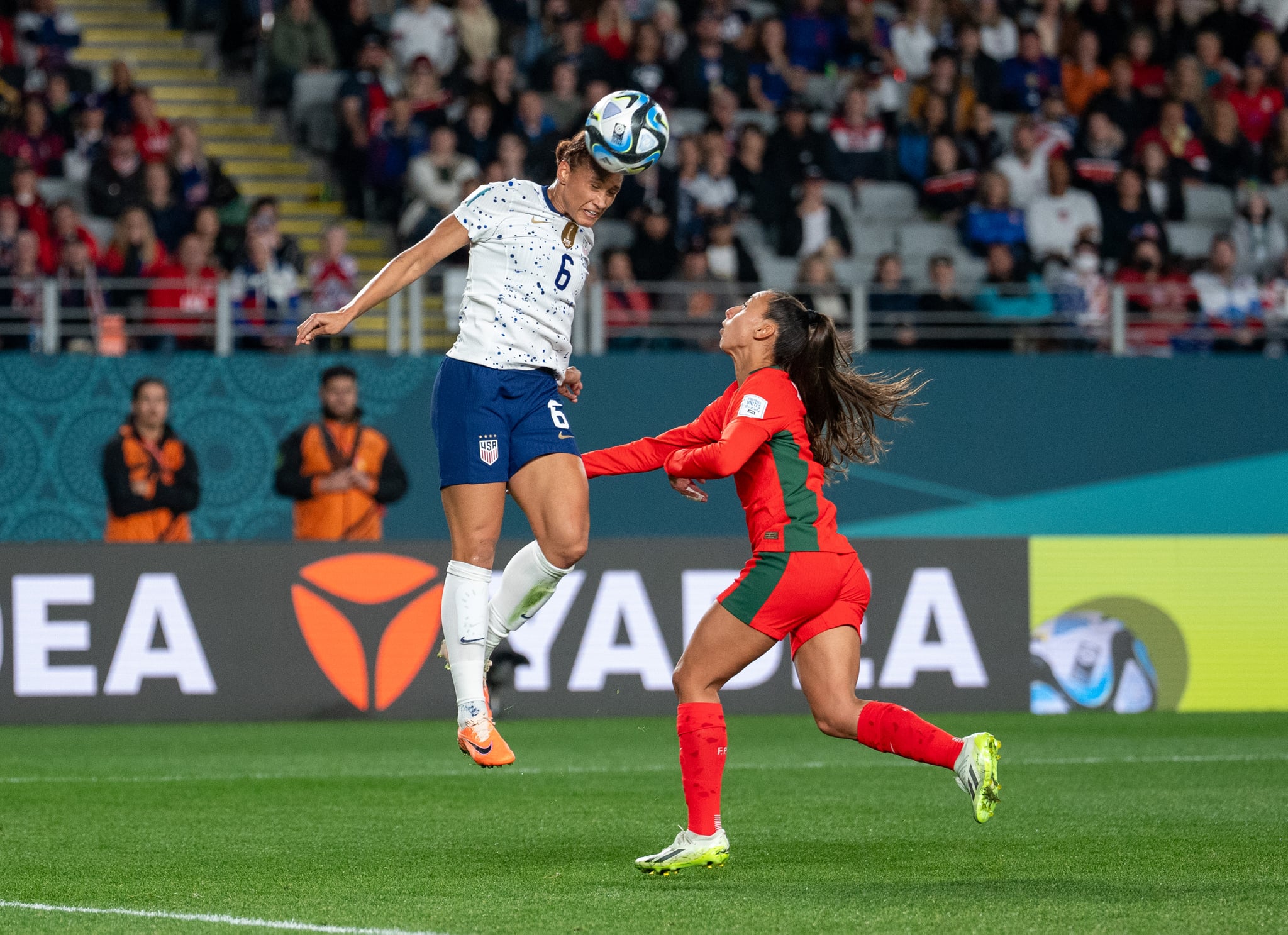 You've probably seen a lot of headers during the 2023 FIFA Women's World Cup — that is, hitting the soccer ball with your head to pass or shoot. US Women's National Team cocaptain Lindsey Horan, for example, headed the ball to score a goal in the team's heated match against the Netherlands, tying the game (watch the video of that goal below).
No matter which team is doing the headers, though, they all look like they hurt from a viewer's perspective — especially when you hear (and practically feel) the impact. And while headers are a hallmark of the game, researchers and industry officials are starting to take a closer look at — and worry about — how they impact players' brain health. For example, during last year's men's World Cup, FIFA introduced "injury spotters" who rewatch game video in slow motion and alert team doctors of possible concussions, among other things. Still, some experts believe there isn't enough being done to protect players from brain damage.
Are players in danger when heading the ball? This is what we know about the health risks, according to research and experts.
Can Heading a Soccer Ball Cause Traumatic Brain Injury?
When discussing head injuries in sports, concussions — a type of traumatic brain injury caused by a blow to the head or body that causes the brain to move rapidly back and forth inside the skull, per the CDC — are one of the biggest concerns.
And it's very possible that the impact from heading a soccer ball can cause a concussion, says Chris Nowinski, PhD, neuroscientist and CEO of the Concussion Legacy Foundation (CLF). "About 10 percent of concussions in soccer happen from head to ball contact on a header," Dr. Nowinski says.
While there's definitely a risk of getting a concussion from a header, you're more likely to get one from colliding with another player in the process, says Dennis Cardone, DO, sports medicine specialist and codirector of the NYU Langone Concussion Center. Take, for example, the collision between Dutch player Daniëlle van de Donk and Horan during the aforementioned World Cup game, which resulted in van de Donk bleeding from her head and, oddly, wearing a swim cap as she returned to the field. "Sure, when you look at the data, most concussions do occur with heading, but it's not head-ball contact, it's head-to-head contact," Dr. Cardone explains.
Still, soccer players appear to be at risk of head injuries from both collisions and headers themselves — and those head injuries, whether they result in concussions or not, are serious.
"The biggest danger presented by repeatedly heading the ball is the accumulation of nonconcussive impacts," Dr. Nowinski explains. "These do not cause concussion symptoms, but they are the driving force behind CTE," he says — which is short for chronic traumatic encephalopathy, a brain condition thought to be linked to repeated head injuries and blows to the head and which slowly gets worse over time and leads to dementia, according to the Mayo Clinic. "While research into heading's link to CTE is ongoing, a 2021 UK study of nearly 8,000 former pro soccer players found that outfield players (non-goalkeepers) were four times more likely than the general population to develop dementia, another neurodegenerative disease, while goalkeepers, who rarely head the ball, did not have a higher risk of dementia," Dr. Nowinski says.
Even worse, a 2018 study from the Albert Einstein College of Medicine found that women players may be more vulnerable to injury from heading the ball than men. The research found that "regions of damaged brain tissue were five times more extensive in female soccer players than in males."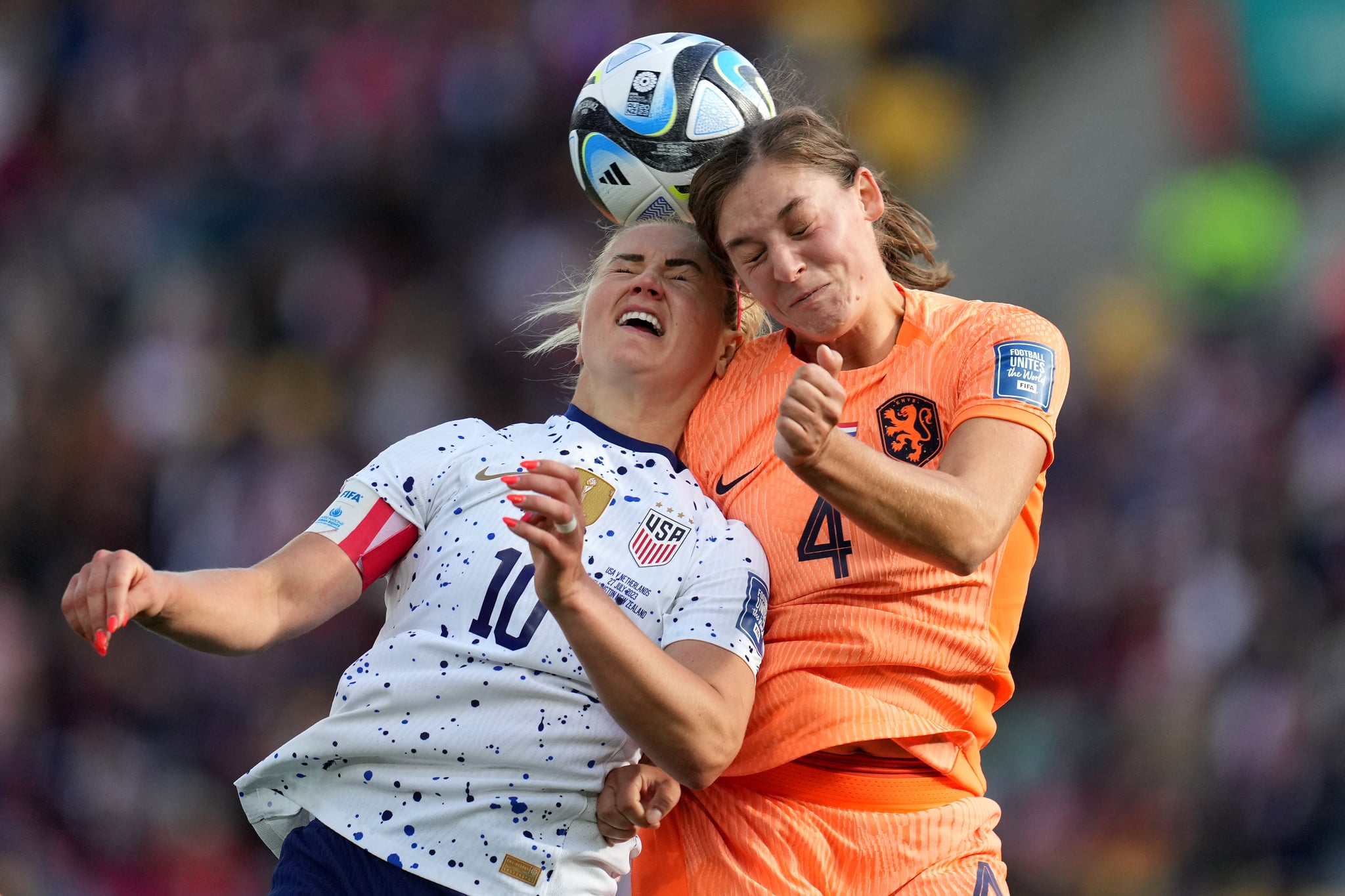 Why Head Injuries Matter
Concussions usually aren't life-threatening, but the short- and long-term effects can be serious. Immediate concussion symptoms can include headaches, nausea or vomiting, balance and vision problems, feeling sluggish or groggy, confusion, concentration or memory problems, and mood changes, according to the CDC. But sometimes these symptoms stick around for weeks to months or years — called post-concussion syndrome — according to the University of Queensland Brain Institute in Australia. Even worse, just a single blow to the head can have severe consequences later in life.
"A single concussion can change the course of a person's life," Dr. Nowinski says. "Concussions are associated with an increased risk of developing a new mental health disorder. Mismanagement of concussions can increase the chances of longer recoveries, post-concussion syndrome, and, in rare cases, even the often deadly second-impact syndrome," which is when someone experiences a second head injury before completely recovering from an initial head injury, per the National Library of Medicine.
Research is even stronger showing that repeated head injuries (even if they don't cause a concussion) can cause the death of nerve cells and contribute to CTE, according to the Mayo Clinic, which can lead to lifelong problems with mental health, behavior, and memory.
What's Being Done to Protect Players?
In addition to the aforementioned FIFA spotters, leagues and federations are starting to do more to prevent head injury during matches and practice.
The US Soccer Federation, for example, has a player health and safety program called Recognize to Recover, which aims to promote safe play and reduce injuries in soccer players of all ages. A main component of the program is focused on head injuries, including concussions. As part of its coaching guidelines to reduce head injuries, US Soccer has banned kids 10 and under from heading the ball in practice and games and advises limiting headers for kids ages 11 to 13 — but the same can't be said for other countries.
"I'd like to see more soccer federations worldwide enact rules prohibiting headers in youth soccer, as US Soccer has for players under 11," Dr. Nowinski says. "There is too much critical development taking place in an adolescent brain to make the practice worth the risk. I don't think children should head soccer balls until at least age 14."
For adult players, headers remain part of the game. To minimize potential injury while performing one, Dr. Cardone says players have to stabilize their neck and torso to reduce rotational forces (head rotation is a main cause of concussion, according to research). It's also better to hit the ball with the front or side of the head (which is what you'll often see done by pros) because hitting the ball from these regions is "more protective," Dr. Cardone says; the crown of your head is the most sensitive area. That's why football players, for example, are told not to tackle with their heads down, he says. Impact on that vulnerable area leads to "more catastrophic neck injuries as well as potential concussions," he says.
But even intentional heading with perfect form doesn't stop head injuries from happening on the field. For Dr. Nowinski, the best way to protect players is by reducing their lifetime exposure to head impacts and severe head impacts, "thereby lowering their risk for dementia and CTE," he says. "Limiting heading in practice is a simple place to start. It's worth considering more rule changes about when and where heading is allowed during games, too — the hardest head impacts are on corner kicks, goal kicks, and punts. Would a ban on heading punted balls at the high school level materially change the game? I think it's worth considering."
Even if headers remain part of the game, monitoring for potential concussions — and keeping those players off the field — is an important part of protecting athletes from second-impact syndrome, which can be deadly. "This is why the Concussion Legacy Foundation advocates for concussion prevention and educates coaches, parents, and teammates to recognize potential concussion signs and make sure that player is immediately removed from the field," Dr. Nowinski explains. "Proper concussion management in pro sports sets the example for young players that their brain health comes first and foremost."
— Additional reporting by Samantha Brodsky