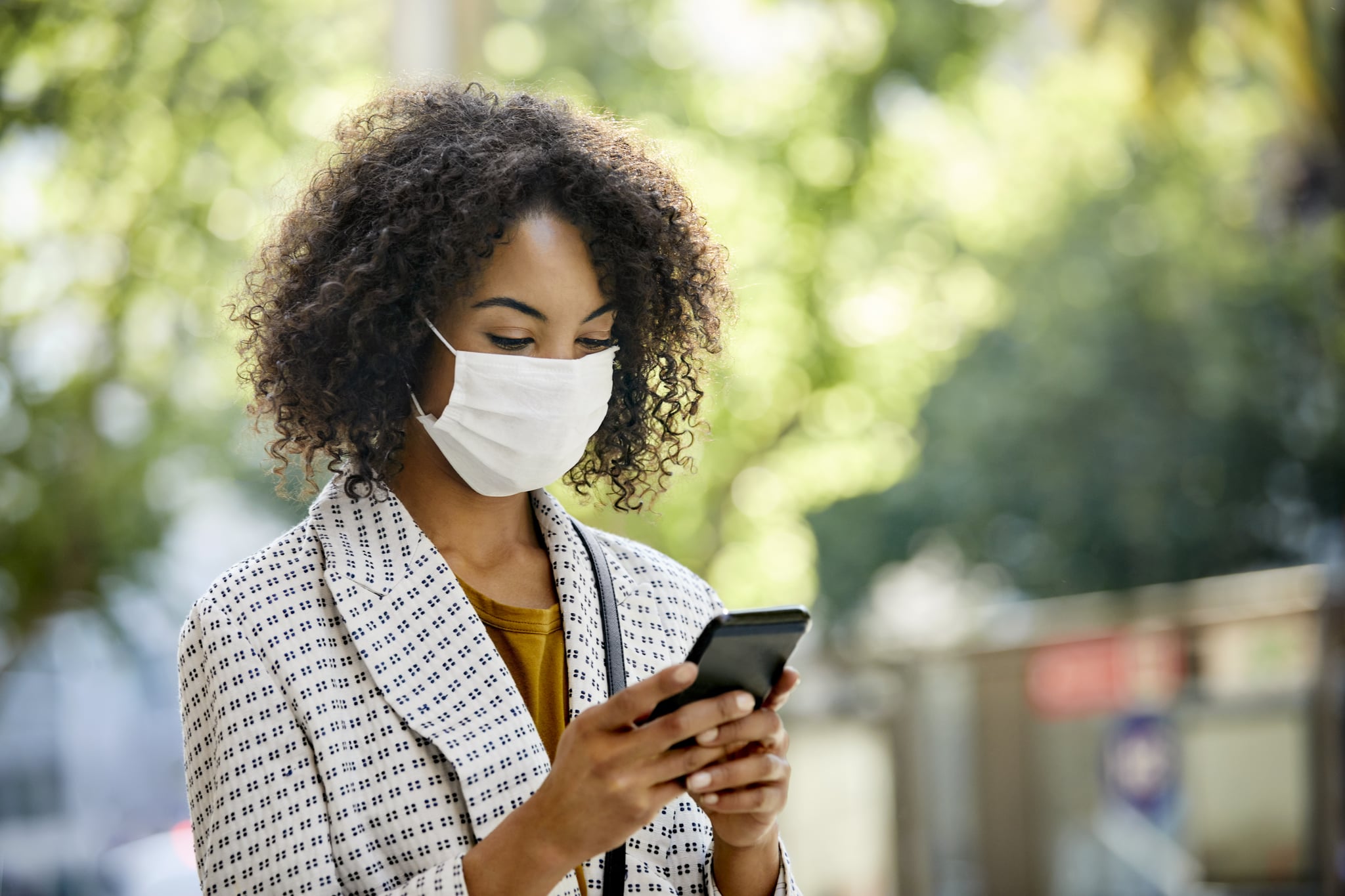 The pandemic may be over, but COVID-19 cases are increasing as a new COVID-19 variant has started picking up steam. The Eris variant, also known as EG.5, is causing a national uptick in cases with some schools closing, per USA Today, and it appears that some people are pulling out their masks again.
The Eris variant is a subvariant of the Omicron strain and is now the dominant strain in the United States, says Payal Patel, MD, MPH, an infectious diseases physician and director of antimicrobial stewardship at Intermountain Health. Experts have also expressed alarm over a new BA.2.86 variant, nicknamed Pirola. The variant "has more than 30 mutations to its spike protein compared to XBB.1.5, a variant of Omicron that had been the dominant strain in the United States before being surpassed recently by EG.5," per Yale Medicine.
According to the Centers for Disease Control and Prevention (CDC), the dominant Eris variant made up over 20 percent of new COVID-19 cases in the United States at the end of the third week of August, explains Shirin Mazumder, MD, an infectious disease physician at Methodist Le Bonheur Healthcare. "EG.5 is an Omicron subvariant that has picked up an extra mutation in its spike protein, which can help it potentially escape immunity from prior infection or vaccination," she explains.
That said, with so much unknown about the new Eris strain, other potential variants, and COVID-19 cases rising, you're likely wondering how to stay safe. Should you wear a face mask? Will mask mandates return? POPSUGAR talked with experts to learn more about the Eris variant and whether masking is advised.
What Is the Eris Variant?
The Eris variant is the current dominating strain making up the greatest number of COVID-19 cases right now, says Nick Stucky, MD, PhD, an infectious disease physician and vice president of research at Truveta, a healthcare data platform. EG.5 is related to the Omicron variant, which first appeared in November 2021, and although the original version of Omicron is no longer circulating, EG.5 has new mutations which allows it to bypass protective antibodies, he explains.
Fortunately, the symptoms don't differ much from prior variants and predominantly cause fever, cough, running nose, fatigue, body aches, headache, shortness of breath, sore throat, and an altered sense of smell or taste, says Dr. Mazumder. "Just like with other variants, severe symptoms like shortness of breath, dizziness, and confusion can be serious and warrant an evaluation by a healthcare professional."
Is the Eris Variant More Dangerous Than Previous Covid Strains?
There haven't been any reports of increased disease severity, says Dr. Stucky. However, the variant is expected to have an edge in terms of transmissibility, making it more contagious, he explains. "It is expected to be better able to escape our immune system responses, which is likely the reason it has spread to become the predominant strain."
That being said, the new variant's symptoms do not appear to be as severe as earlier strains, and most people experience fevers, extreme fatigue, and cough, but do not experience extreme respiratory difficulties, says Naval Parikh, MD, a board-certified primary care physician and internist and the chief of medicine at Broward Health Medical Center North. "There is really no need to panic."
Should You Wear a Mask Again?
Masks are an effective tool for protection against COVID-19 and will continue to be effective in protecting against the Eris variant, Dr. Stucky says. Everyone has a different risk tolerance level, and you may want to take additional precautions and wear a mask if you are immunocompromised or live with someone who is high risk, Dr. Mazumder adds. "People at higher risk of severe illness due to COVID-19 include those over 65, nursing home residents, pregnant women, immunocompromised individuals, and people with underlying medical conditions such as heart and lung disease."
Additionally, you may want to mask up in confined, crowded spaces with poor ventilation such as concerts, stores, offices, and public transportation, Dr. Mazumder explains. Timing also makes a difference, so if your exposure is longer in a particular high-risk setting, then the risk increases and it's worth masking, she adds.
You should also wear a mask if you live with and/or are near a COVID-19 positive person, whether they have the Eris variant or not, Dr. Parikh says. According to the CDC, you should also wear a mask if you're experiencing symptoms.
Not to mention, masking during the fall and winter months is beneficial to protect yourself from all respiratory viruses, Dr. Patel adds.
What Type of Mask Should You Wear?
If you choose to mask, N95, KN94, and KN95 masks offer the best level of protection because they filter out 90 percent of viral particles and are more effective than surgical or cloth masks, Dr. Mazumder says. It's also important the mask has a snug fit on the face and completely covers the nose and mouth (here's a hack for tightening your face mask if it's loose), Dr. Stucky adds. "If masks aren't worn properly, they don't provide any protection."
Bottom line? A good quality mask goes a long way in providing protection and can still be useful even if the people around you are not masking, Dr. Mazumder says.
Will Mask Mandates Return?
The CDC has not announced any new mask mandates, says Dr. Mazumder. "Risk tolerance for everyone is different and the additional precautions they take depends on that, but certainly, high-risk individuals should consider wearing a mask in high-risk settings to protect against the different respiratory viruses that circulate more frequently in the fall and winter months."
And while the CDC is unlikely to reinstate widespread mask mandates, Dr. Patel says if you or a family member is at a higher risk of severe illness, you may want to take preventative measures and wear a mask in high transmission areas such as airports, concerts, and other crowded spaces.
How Can You Stay Safe From the Eris Variant?
In addition to masking in crowded areas, it's crucial to stay up-to-date on your vaccines and wash your hands often, Dr. Patel says. "If you're unvaccinated, you remain at greatest risk of severe infection from COVID-19," she says. The updated booster coming this fall was also designed to protect against a genetically similar variant, so should be effective against Eris as well, Dr. Stucky adds.
"Overall, I am of the belief that wearing masks in public enclosed spaces and good hand washing will help in preventing the transmission of the ERIS variant," Dr. Parikh says. "While it may not pose a life-threatening danger, these measures can prevent people from missing work and, more importantly, from facing hospitalization."
If you do test positive for COVID-19, stay home, and reach out to your physician and healthcare team, Dr. Mazumder says. "Medications, such as Paxlovid, can reduce the risk for hospitalization in high-risk people but need to be started within five days of symptom onset to have the best effect."
POPSUGAR aims to give you the most accurate and up-to-date information about the coronavirus, but details and recommendations about this virus may have changed since publication. For the latest information on COVID-19, please check out resources from the WHO, the CDC, and local public health departments.