Nestled just beyond Chicago's far western suburbs of Huntley, Algonquin, and the Dundees is the community of Hampshire. Its a small town on the edge of more rural communities but Hampshire itself is not especially rural–it sits alongside Interstate 90, has a population of almost 8,000–up almost 170% since 2000–and its high school serves close to 2,000 students between 9th and 12th grade.
Hampshire High School is part of Illinois's District 300, which is the sixth largest district in the state. Its demographics are not dissimilar to other exurban/far outer-ring suburbs in the area: 57% white, 4% Black, 28% Hispanic, 7% Asian, and 44% of two or more races (Native and Pacific Islander heritage combined is .15%). Nearly one-quarter of the students are low income, while 11% have disabilities, and 7% are "English learners." It takes about 90 minutes to get to downtown Chicago by car.
Since the beginning of the school year, students involved in the annual spring musical have been working hard behind the scenes to determine what they would want to perform. This involves not only choosing the play but acquiring the rights to produce the show. They were excited to choose The Prom.
The Prom is a story of four Broadway actors who are reminiscing about their famous lives as they are en route to the small, conservative town of Edgewater, Indiana. They've been brought to the community because they are coming to help a lesbian girl who has been banned from bringing her girlfriend to town. The Prom is based on a real situation that unfolded in Fulton, Mississippi, in 2010, wherein the district was sued by the ACLU for violating student First Amendment Rights (the community's contingent of bigoted parents held their own private prom to protest the decision). It is not a tale of tragedy, nor is it a tale of gay pain. The Prom is humorous, while also centering queerness and the complexities of being queer in a world that can–and is–hostile to those who are within that community.
The play opened in Atlanta, Georgia, in 2016 and enjoyed a stretch on Broadway in 2018. It began a national traveling show just before the COVID-19 pandemic hit in 2019, then continued its tour in 2021. A film adaptation of the show was produced by Ryan Murphy and landed on Netflix in 2020, and YA author Saundra Mitchell joined playwriters Bob Martin, Chad Beguelin, and Matthew Sklar to publish a book for teens based on the play, also called The Prom.
By this point in the story, anyone who has even half paid attention to the fervor of censorship since it began to dig in full force in early 2021 knows where this will go.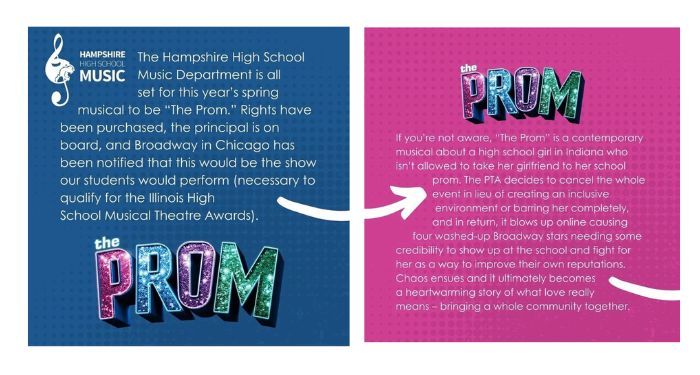 On October 20, during a meeting held between school administration, the Hampshire High School theater department, and the student body, District 300 superintendent Dr. Susan Harkin and Director of Diversity, Equity and Inclusion (DEI), Adrian Harries, informed everyone that the district would not be allowing the production to happen. The conversation began a month earlier, as there were rumblings within the theater department that administrators were nervous about the show, and students responded by writing letters, hoping to set the administration at ease.
The administrators weren't even initially planning to talk with the students about the play's cancelation. The decision happened on Wednesday, between district administrators and school staff. It was not made by anyone in the Hampshire High School facility, nor anyone on the District 300 School Board.
District administrators were not prepared for the Friday meeting with the students. For over two hours, the kids spoke out, sharing personal stories with conviction and poise. The decision remained in place, and District 300 administration did not post anything to the school website about it until students, parents, and other community members began to share what happened on social media.
"The initial decision to postpone the musical was unrelated to Hampshire High School students or their desire to demonstrate their school's progress toward supporting the LGBTQ+ community," explained the district in a press release posted to their website several days after the decision was made. "Instead, the postponement reflected a concern held by our administrative team that the larger District 300 community may not be prepared to fully support this performance without risking potential harassment, bullying, and violence targeting our LGBTQ+ students, performers, staff, or community members."
In other words, because the district administration perceived potential backlash about the performance of an LGBT+ play, they elected to cancel the production. It is also an interesting shift from the play being canceled to being "postponed." This is the kind of clever crafting of language possible when the information does not get shared with a community until days after the decision is rendered. But more, it dodges the questions raised by HHS staff about what they could do to ensure that everyone would feel safe performing and attending the production come spring. District administrators instead leaned into stale stereotypes of what small communities might perceive of such a performance, despite the fact Hampshire and its surrounding communities closely mirror average America.
"At the meeting, HHS students came prepared and many spoke passionately and respectfully in effort to educate Harkin and Harries about the massive repercussions of their decision to prohibit HHS' performance of 'The Prom,' explained on student via email, who because of her age, will remain anonymous. "Harkin and Harries made the decision based solely on the possibility of violent backlash from the community, and reiterated several times throughout the meeting that they "are afraid they wouldn't be able to keep their students safe" from targeting by community members as a result of the musical."
She continued, "Harries and Harkin insisted that it wasn't the content of the musical they were concerned about, but went on to say that the "nature of the performance" is the reason the community of Hampshire "isn't ready to receive a performance like The Prom." Harkin described the opposition as "vicious" and that "Hampshire has a lot of work to do," but the pair avoided directly answering questions from students like "What does the administration think should be done (in regards to controlling backlash)?"
This same sentiment is woven throughout the District's press release: "Unfortunately, there has been a rise in harassment, bullying, threats, and violence directed toward the LGBTQ+ community, locally and nationally. In District 300, we have experienced community members seeking to "out" students involved in our Gay Straight Alliance (GSA). We have received numerous hate-filled emails regarding the district's Day of Silence. Last month, the district received threats and inappropriate comments from community members related to our LGBTQ+ Learning Space meeting held at a District 300 school. Additionally, we have seen harassment targeting the LGBTQ+ populations in our communities. "
The district administration claims the decision to "postpone" the play is to protect its LGBTQ+ community, but it not only has the opposite effect, it raises far more questions than can be answered. The increase in violence and harassment of young LGBTQ+ people has been occurring for years, and it has been especially in the forefront of discussions of book banning. Hampshire is not an island. Indeed, the community is within spitting distance of several of the most volatile school boards in Illinois when it comes to partisan politics, brought forth by hate groups like Moms For Liberty, No Left Turn in Education, and its local manifestations in Awake Illinois. Huntley School District, just 17 miles north of Hampshire, has a board refusing to include a policy within the district to end book bans in order to access grant money by the state as part of the state's Anti Book Ban Bill; Barrington School District, less than 30 miles north of Hampshire, dealt with a spate of book challenges to LGBTQ+ books just last year at the hands of a local Moms group; and a Lake in the Hills bakery shut down following ongoing harassment and a hate crime perpetuated by anti-LGBTQ+ groups and individuals. Lake in the Hills is 16 miles from Hampshire and is part of District 300. In 2021, it was Downers Grove, Illinois–45 miles away from Hampshire, to be fair–dealing with nonstop antagonism from right-wing bad actors attempting to get Gender Queer banned.
Why is it that no policy was in place or necessary to protect students until it was students seeking to produce and perform a play that furthers the conversation for LGBTQ+ rights to be protected? If this was truly an issue of wanting to ensure safety for the kids because "District 300 community may not be prepared to fully support this performance without risking potential harassment, bullying, and violence targeting our LGBTQ+ students, performers, staff, or community members," that seems like a much bigger problem.
But it's the kids–queer kids and their straight allies–who continue to be punished for the lack of proactive action by the district administration. And the DEI coordinator, no less.
Even if the district administration changes their decision and implements a comprehensive safety plan, it's far too little too late. The students already know the truth.
"[i]t was made obvious to the community of Hampshire and beyond that D300 higher administration is tolerant of the bigotry and hate of a minority group in Hampshire and our district as a whole. Their reasoning has shown us that they believe the underrepresented lives and stories of LGBTQ+ students are not worth telling, and certainly not worth the effort of protecting," said a student. "Instead of using the performance of The Prom to provide visibility for queer students in our community, showcase the reality of living as a queer high school student, and start to change the stereotype of the town of Hampshire, Dr. Susan Harkin and Mr. Adrian Harries made it abundantly clear that they would rather rely on harmful hypotheticals to appease hate and hide behind their performative activism."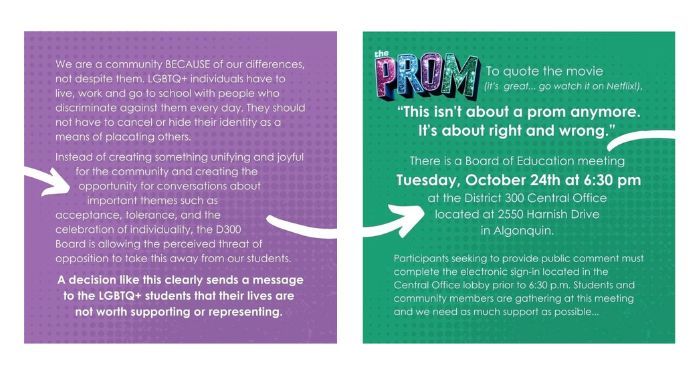 District 300 holds their next school board meeting tonight at 6 pm, at 2550 Harnish Drive, in Algonquin. The meeting begins with a closed session and opens back at 6:30 pm to open session (this is normal). Locals are encouraged to attend and speak during the public comment session; to get on the roster, you need to sign up prior to 6:30 and you can do it when you arrive. The meeting will be live streamed here.
If you are not local and/or cannot attend the meeting, consider writing a letter to the board. The board had no involvement in this decision, and several of their members have posted on social media of their disapproval of district administration's decision. Their contact information is as follows:
District Superintendent Dr. Susan Harkin: susan.harkin@d300.org
Director of Diversity, Equity, and Inclusion, Adrian Harries: adrian.harries@d300.org.
Board members: Emmanuel.Thomas@d300.org, Tola.Makinde@d300.org, Randi.Gauthier@d300.org, Nancy.Zettler1@d300.org, Christine.Birkett@d300.org, and Steve.Fiorentino@d300.org (board president)
There is also a change.org petition to reinstate the show at the school. One Hampshire High School staff member also suggested that one way to continue showing support for these teens is to embrace those within your own community. Remind them that bigotry does not have a place anytime or anywhere–and today's teens are indeed the ones continuing to say this.
"[S]tudents, parents, and community members have been relentless on social media advocating for our right to perform The Prom," said a student who reached out. "We have caught the attention of cast members and the author of The Prom on social media and do not want to stop there. We need your help!"
Perhaps it is a reminder to "Love Thy Neighbor."
One-quarter of today's teens identify as LGBTQ+ — and that's the 25% who openly identify that way. District 300 administration just made clear they not only do not know their own community, but they do not care about it, either. If LGBTQ+ student safety were a concern, then an anti-harassment policy would have been drafted years ago and, if it were the board dragging its feet over the issue, then it would have been drafted in the previous year, as several newcomers to the district's governing body campaigned on issues of student rights and have spoken up about the decision.
But also, why would the district need to address this immediately when it might mean that district superintendent Dr. Harkin might not have an easy year before retirement?
These kids just experienced censorship and have been bold in calling it out. Now, it's time to step up and defend those same kids from those playing the role of bully under the guise of "protecting them."