Join RoNN Moss and Devin DeVasquez Moss for a virtual meet and greet on FanRoom Live with Host Jae Benjamin, Co-Host Stacey Toy and guest Co-Host Maxim Model Sherry Nelson on Saturday, June 5th, 2021 at 4 PM ET.
Hailing from Hollywood CA, RoNN Moss grew up around the entertainment industry. He knew at 11 years old after watching the Beatles appearance on The Ed Sullivan Show that he wanted to play music and taught himself the guitar, bass guitar and began drum lessons in Hollywood. RoNN then formed his bands from his junior high friends and started playing in clubs around Los Angeles way before he was of legal age to be in those clubs.
It was in the late 70s that he met Peter Beckett and JC Crowley and together with RoNN's high school friend John Friesen formed the band, "PLAYER." The band was signed by famed Australian manager Robert Stigwood to his RSO records label and garnered and handful of top 40 hits including the #1 enduring smash hit, "Baby Come Back." PLAYER began touring with Eric Clapton, Heart, Kenny Loggins, Boz Skaggs, Little River Band, Gino Vannelli, as well as headlining their own concerts. On the recommendation of Robert Stigwood, and because PLAYER was experiencing a slowdown within the record industry, RoNN decided to try his hand at acting and quickly landed his first film entitled, "Hearts and Armor" that filmed in Sicily and Rome,Italy. Following a progression of movies, TV shows and commercials, led RoNN to originate the iconic role of Ridge Forrester for the CBS Daytime drama, "The Bold And The Beautiful." Over the next 25 years the show became a worldwide sensation spanning 130 countries, making RoNN an internationally recognized face and personality.
RoNN has continued doing music over the years and has done two solo CDs, "I'm Your Man" and "UnCovered" along with four solo tours in Australia. His latest music release is a collection of songs called "My Baby's Back" and is available on iTunes, Amazon, Spotify, Reverbnation, and RonnMoss.com. He is also embarking on another Australian music tour in March 2019.
He has played himself in movies for Italy, "Christmas In Love" and won 2nd place on Italy's version of "Dancing With The Stars." In 2012 RoNN decided to exit the role of Ridge Forrester and go into producing with the hit Amazon Prime series, "The Bay" in which he also plays the character of John Blackwell. RoNN was also one of the voices in the animated Disney movie, "Bolt." RoNN appeared with his wife, Devin Devasquez, on the hit ABC series, "Celebrity Wife Swap." RoNN is a man of many talents and also loves photography, martial arts, target gun shooting and horseback riding. He has traveled to many countries around the world to host, appear or film a variety of commercials, campaigns and television projects. Together with his Cajun wife, Devin, they have created a wonderful spice called "Devin's Kickass Cajun Seasoning" which helps raise money for the rebuilding of New Orleans after Hurricane Katrina. In addition, Ronn has also launched his own brand of comfort food, RoNN's Gourmet BBQ Sauce. Ronn and Devin are also supporters of The Thalians, which raises money and awareness for UCLA Operation Mend, helping our brave military men and women heal from the wounds of war, physically and mentally. Songs of Love which helps terminally ill children and their families is also a project for this husband and wife duo.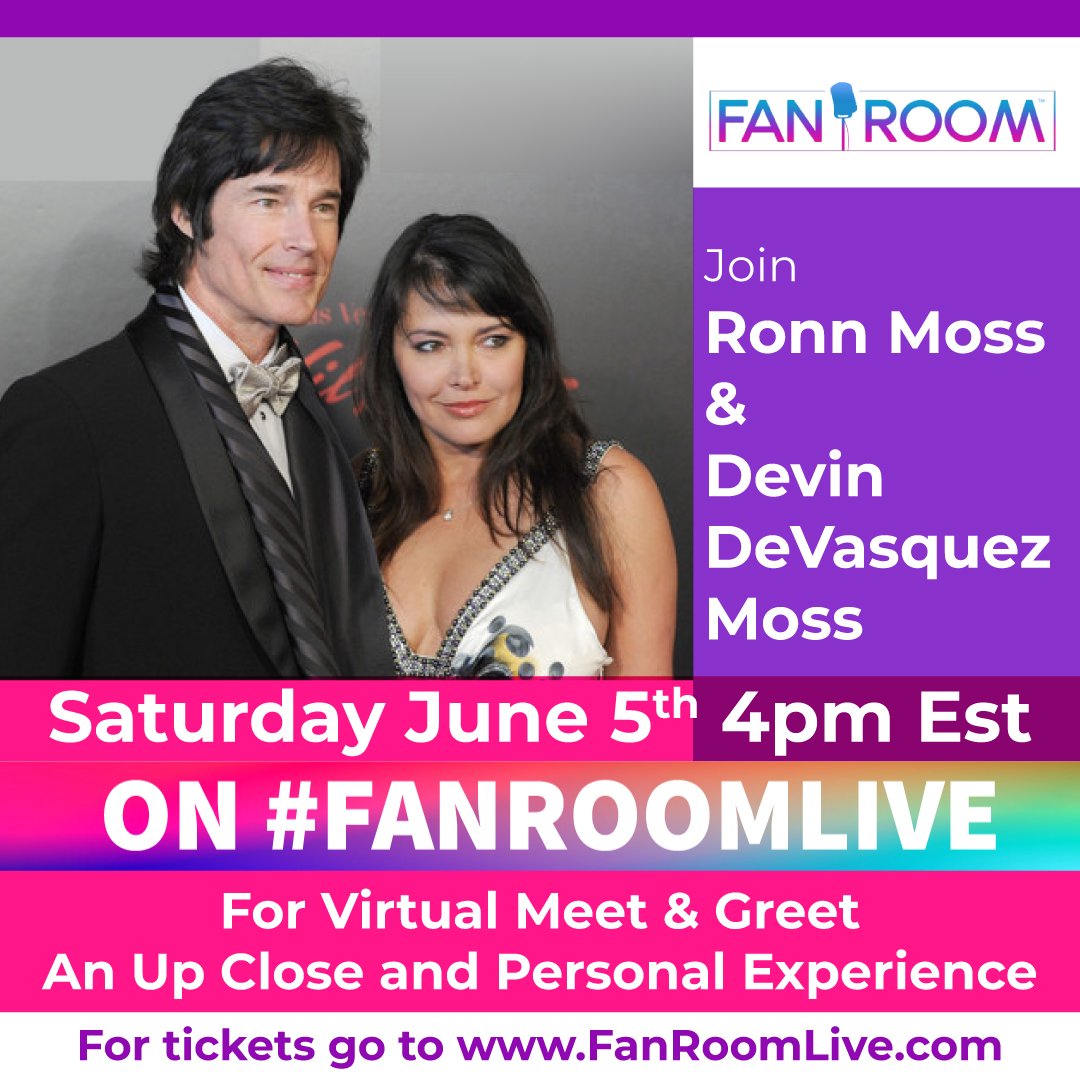 Devin DeVasquez Moss is an American model and actress. She was chosen as Playboy's Playmate of the Month in June 1985, after being featured in the October 1981 issue's college pictorial. Her centerfold was photographed by Richard Fegley. Her father was from Madrid, Spain, and her mother is of Irish descent.
She appeared in Can't Buy Me Love with Patrick Dempsey and went on to star in Society with Billy Warlock. DeVasquez has appeared in over 100 commercials and authored the book The Naked Truth About a Pinup Model, which is about pin-up modeling and includes an interview with Bettie Page.
DeVasquez authored the books The Naked Truth About a Pinup Model, True Age, Timeless Beauty, My Husband's a Dog, My Wife's a Bitch, and The Day It Snowed in April.
DeVasquez writes for various magazines for Westlake magazine, Splash magazine and Primo magazine for Belgium. She is an active blogger for her website womantowoman.tv and devronnsblog.com, which chronicles her life and travels.
DeVasquez garnered four Daytime Emmy Award nominations as a producer on the Amazon Prime series, The Bay.
The FanRoom Live platform helps actors, musicians, comedians, sports stars, and other popular figures engage and interact seamlessly with their supporters virtually. These sessions are always very interactive and more like a meet 'n' greet and Q&A town-hall-style meetings.
FanRoom Live is a digital platform that connects actors, authors, comedians, athletes, and celebrities to their fans in an intimate platform of virtual events conducted like "town-hall" meetings. FanRoom Live events feature Q&A sessions, giving fans access never experienced before.
FanRoom Live is the brilliant collaboration of an actor/producer, talent agent and celebrity event producer in response to the pandemic that stilled the entertainment industry. Fighting boredom, depression and isolation, the public is hungry for normalcy. Cedric The T=, award-winning actor, producer, and comedian, Mich Faulkner, CEO of 123 Talent, and Jeff Krauss, President of event production and entertainment company IE Group, designed a new reality. They brought on Host and CO-EP Jae Benjamin, as well as, CO-EP and Co-Host, Stacey Toy. Pooling their talents and resources, they created a solution for staying home and social distancing while getting an intimate entertainment fix for eager fans. Artists connect with fans in ways never possible before. FanRoom Live became an instant success. Previous guests of FanRoom Live include Cedric The Entertainer, George Lopez, D.L. Hughley, Brant Daugherty, Holland Roden, Kenny Aronoff, Leland Sklar, Kurt Angle, Jake The Snake Roberts, Richard Kline, Sean Kanan, Morgan Fairchild and George Wayne the former Vanity Fair scribe.
Get your FanRoom Live tickets to meet RoNN Moss and Devin DeVasquez Moss LIVE on Saturday, June 5th, 2021 at 4 PM ET  by going to  https://www.fanroomlive.com