Who else but hosts Wendy Stuart and Tym Moss could "spill the tea" on their weekly show "If These Walls Could Talk" live from Pangea Restaurant on the Lower Eastside of NYC, with their unique style of honest, and emotional interviews, sharing the fascinating backstory of celebrities, entertainers, recording artists, writers and artists and bringing their audience along for a fantastic ride.
John Kelly will be a featured guest on "If These Walls Could Talk" with hosts Wendy Stuart and Tym Moss on Wednesday, September 20th, 2023 at 2 PM ET live from the infamous Pangea Restaurant.
Wendy Stuart is an author, celebrity interviewer, model, filmmaker and along with If These Walls Could Talk she hosts TriVersity Talk, a weekly web series with featured guests discussing their lives, activism and pressing issues in the LGBTQ Community.
Tym Moss is a popular NYC singer, actor, and radio/tv host who recently starred in the hit indie film "JUNK" to critical acclaim.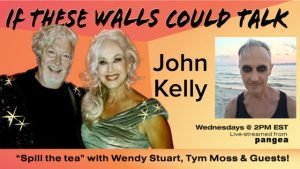 John Kelly is a performance and visual artist. His performance works dramatize the lives of characters – whether actual or fictional – revealing their challenges, foibles, and humanity. Some of these works are directly autobiographical – others are inspired by the realities and hurdles of cultural outsiders, and political realities they navigate. His visual art is based in self-portraiture, and frequently relates to the subjects of his performance works, including drawing, painting, photography, and video. He recently completed his first graphic narrative 'A Friend Gave Me A Book', based his weathering a catastrophic trapeze accident.
Watch John Kelly on "If These Walls Could Talk" with hosts Wendy Stuart and Tym Moss on YouTube here:
Subscribe and listen to "If These Walls Could Talk" on Apple Podcasts/iTunes here:
https://podcasts.apple.com/us/podcast/if-these-walls-could-talk/id1561221158