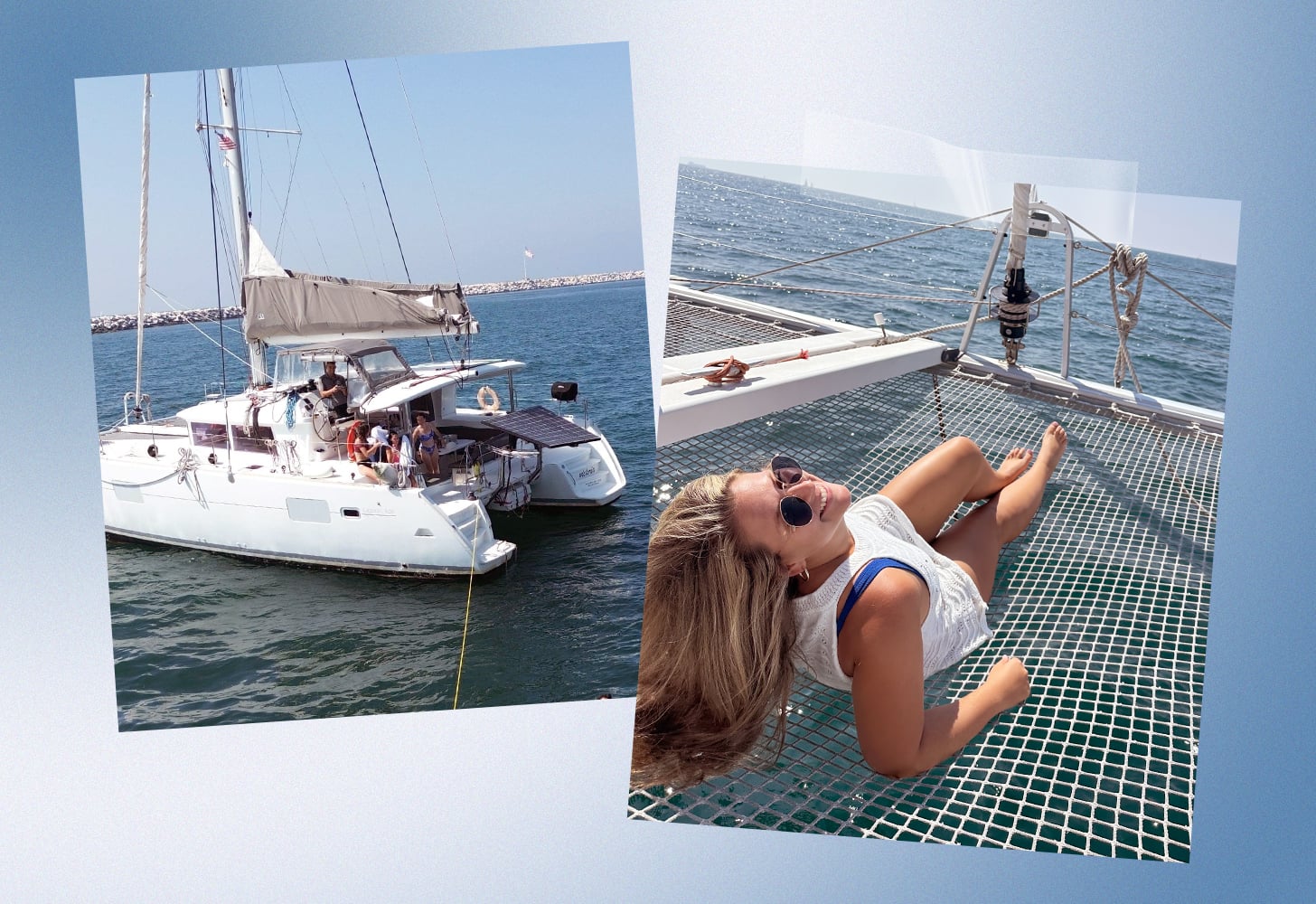 I may not be a Pisces, but there's something about being around water that puts my mind at ease. As someone who grew up in Kansas — pretty much the most land-locked state in the entire United States — it's possible I love the water because I never had much access to it. But it could also have something to do with the blue-mind theory.
According to biologist Wallace J. Nichols, author of "Blue Mind," water can be used as a form of medicine. In his book, he touches on research that suggests "being near, in, on, or under water can make you happier, healthier, more connected, and better at what you do."
So when my closest friends and I recently visited California, we knew we had to get in on these sweet, sweet benefits — and the easiest way we were able to make that happen? By using the Boatsetter app.
For those who aren't familiar, Boatsetter is a completely free app that lets you browse over 50,000 boats and choose one to rent for an excursion. (It's basically the Airbnb of boat rentals.)
We booked a catamaran experience, and let's just say, while the amount of hard seltzers we drank didn't exactly make us feel "healthier," we were absolutely feeling happier and more connected in our blue minds. Whether you want to boat with your partner, some friends, or get into your own meditative blue mind state yourself, here are all the reasons why Boatsetter should absolutely be the move the next time you need some zen.
What I Liked About Using the Boatsetter App
Using the Boatsetter app is extremely intuitive. I knew exactly where I was looking to book, so I used the "Where do you want to go boating?" search feature. But if you don't have a location in mind, you can scroll through the "top destinations" location to get some inspo.
When I plugged in my desired location, I loved that I could set the filters for what type of experience I was looking for. For my friends and me, the main thing we wanted was a boat that already had a captain because, hi, yes, we could not be responsible for driving a literal boat — and this was absolutely the move when it came time to enjoy the catamaran experience. If you want to feel bougie without paying the price to be bougie, opting for a captained boat is a must.
I also loved that I was able to message our captain, Danny, ahead of our experience within the app. There, he was able to communicate what we needed to bring (sunscreen, towels, booze, etc.) and what the boat would provide (ice, music, a gnarly sunburn, etc.). He also communicated specific instructions for finding parking and our meeting location.
What's Worth Noting About the Boatsetter App
The Boatsetter app can be used for more than my little cruise. The app offers up experience categories like fishing, celebrating, sailing, and watersports to help you narrow down the type of boat that would be best for you. Personally, we went for the "cruising" option, but to each their own.
Another thing to note is that, if you choose a boat with a captain, there's no option to tip within the app. Fortunately my captain had Zelle, but just make sure to bring cash or ask the captain for their Zelle, Cashapp, or Venmo information if you want to tip by the end of it (which is industry standard, btw).
Who Is the Boatsetter App Best For?
The boatsetter app is great for literally anyone interested in being on a boat (particularly if you don't have the cash to charter a luxury vessel, let alone buy one), whether you're looking to fill a day of your vacation or get into your blue-mind state at home.
You must be 18 years old in order to use Boatsetter to book a captained boat, and 25 in order to sail on your own.
Is the Boatsetter App Worth the Money?
The Boatsetter app is completely free to use, so you're not paying for anything besides the boat itself, the captain price (if you want one), and a service fee. (For reference, our service fee was $135 for a three-hour catamaran experience.)
But the best part about the Boatsetter app is you can filter your options by price, so if you want to go all out, you can, but if you want to stick to a more conservative budget, you can do that, too. In other words, it's absolutely worth whatever amount of money you want to dish out.
Additional Details
If you have a boat, you can also list your boat on the app for people to rent out. To learn if your boat is eligible, you can look at the conditions here.
You can also save all your fave boat rentals in one place on the app, which makes it easier to decide which boat you want to commit to by the time you're done browsing.
The captains will tailor the experience according to what you and/or your group wants. For my friends, Danny took us on a slow, idle cruise around Marina Del Rey and dropped anchor so we would have time to swim, too.
Rating
Boat expenses for the author were provided by Boatsetter for the purpose of writing this story.
Image Source: Courtesy of Taylor Andrews